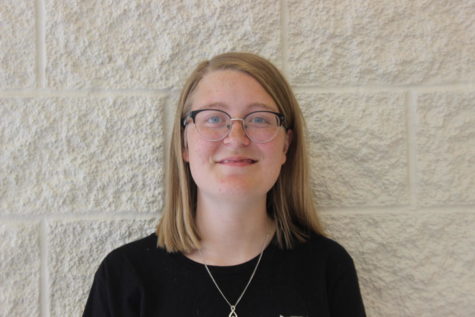 Maci Weathers is a junior, and this is her second year on the newspaper staff.  Weathers wanted to join newspaper because she said it looked fun.  After high school Weathers wants to attend Baylor University, major in journalism and minor in criminal justice.
Extra interest: Involved in band and key club.
Favorite ice cream: Lime sherbet
Favorite color: Purple and black
Favorite animal: Walruses
Favorite Quote: "Be a voice not an echo."
Maci Weathers, Staff Writer
Sep 12, 2019

Marching Band Transcends into State Year

(Story)

Sep 04, 2019

Tangled Webs: Disney Loses Spider-man to Sony

(Story)

May 08, 2019

All American: New Series About A True Story of A Football Player

(Story)

May 01, 2019

Schedule for Spring Semester Tests

(Story)

Apr 23, 2019

Skipping for Cause: Students Across Globe Ditch School for Climate Change

(Story)

Apr 23, 2019

Chromebooks To Be Turned In Soon

(Story)

Apr 23, 2019

UIL Band Contest Results for Concert and Sight Reading

(Story)

Apr 15, 2019

Randall to Host UIL for Local High School Bands

(Story)

Apr 15, 2019

Netflix Series 'On My Block' Spreads Light on Gang Violence and Teenagers

(Story)

Apr 04, 2019

iCreate Registration is Still Open

(Story)

Mar 29, 2019

Color Guard Tryouts to be in April

(Story)

Mar 28, 2019

'Sadie' a Book Thriller That Adds a Twist to the Genre

(Story)

Mar 27, 2019

'The Cruel Prince' Breaks Down Fantasy Genre Stereotypes

(Story)

Mar 26, 2019

A Closer Look Into the Comic Book Universe: The Umbrella Academy

(Story)

Mar 04, 2019

Mandatory Duel Credit Meeting for Parents and Students

(Story)

Feb 25, 2019

Boys' Wrestling Regional Results

(Story)

Feb 18, 2019

Ant-Man And the Wasp: Better Than the Original

(Story)

Feb 15, 2019

The Homework Debate: An Updated Look at Excessive Homework

(Story)

Feb 13, 2019

Lovable Gifts Anyone Can Make: 5 DIY Last Minute Valentine's Day Ideas

(Story)

Feb 04, 2019

UIL Virtual Meet Begins Academic UIL Season

(Story)

Feb 01, 2019

AP Students Receive Testing Dates

(Story)

Jan 29, 2019

Randall Hosting Annual ASL Slam

(Story)

Jan 29, 2019

Basketball Teams in action this week

(Story)

Jan 25, 2019

CISD to Host Internet Safety Training for Community

(Story)

Jan 25, 2019

CISD Offering Parent Meetings about Vaping, Substance Abuse, Dating

(Story)

Jan 17, 2019

Floral Design to Sell Carnations for Valentine's Day

(Story)

Jan 16, 2019

Interactive Ability: Black Mirror's 'Bandersnatch' is One of Kind

(Story)

Dec 14, 2018

Grace and Fury: A Fierce Tale of Sisters and Feminism

(Story)

Dec 13, 2018

'Dumplin' Hits Home With Message About Body Confidence

(Story)

Dec 10, 2018

Lunch Frustration: Construction, Traffic Congestion and Food Options Garner Complaints

(Story)

Dec 05, 2018

Juniors Are in Charge: Prom Theme Voting Starts

(Story)

Dec 05, 2018

Leadership Class Hosting A Canned Food Drive

(Story)

Nov 30, 2018

Top 10 Christmas Movies for the 2018 Holiday Season

(Story)

Nov 28, 2018

Football Wins Area Championship, Moving On to Region

(Story)

Nov 19, 2018

Football Wins Bi-District Championship Title

(Story)

Nov 08, 2018

Students Honor Mr. Sullivan for Day of the Dead

(Story)

Nov 08, 2018

Volleyball Clinches Regional Quarter Final Championship

(Story)

Nov 01, 2018

Chilling and Charming Witches: Halloween TV Season is Not One to Ignore

(Story)

Oct 29, 2018

OwlCrate: The Subscription Box Excites All Book Lovers

(Story)

Oct 24, 2018

Codebreaker Prizes and End Date Announced

(Story)

Oct 22, 2018

'Searching' is A Thriller That Never Stops

(Story)

Oct 15, 2018

Region 16 to Host Free College Workshop

(Story)

Oct 12, 2018

Spooky Times Ahead: Halloween Happening is Just Around the Corner

(Story)

Sep 27, 2018

Become a Spy: Code Breaker Game begins for a Second Year

(Story)

Sep 24, 2018

'Sierra Burgess is a Loser' strikes both controversy and intrigue

(Story)

Sep 14, 2018

The New Trend: Girls asking Boys to Homecoming

(Story)

Sep 11, 2018

Students Celebrate Spirit Week

(Story)

Sep 06, 2018

Cross Country Teams to Compete this Saturday

(Story)

Aug 30, 2018

Old, New Clubs Add Excitement To Campus

(Story)

Aug 30, 2018

Football Games in Full Swing

(Story)

Aug 30, 2018

Junior Class Rings to be Ordered This September

(Story)

Aug 30, 2018

People turn to essential oils for health, mood benefits

(Story)

Aug 29, 2018

Orange is the Old Black

(Story)

Aug 27, 2018

West Coast Fires Cause Unrest Across the Panhandle

(Story)

May 15, 2018

Science Fair to be Held Next Week

(Story)

May 15, 2018

Senior Wins State In Editorial Writing

(Story)

May 02, 2018

Journalism students take photography field trip

(Story)

Apr 24, 2018

Band Competed in UIL Concert and Sight Reading

(Story)

Apr 23, 2018

Interactive crime scene with Teachers

(Story)

Apr 16, 2018

Color Guard not just for Marching Band

(Story)

Apr 16, 2018

Facebook stocks plummet in light of scandal

(Story)

Mar 29, 2018

Bombing hysteria in Austin comes to an end

(Story)

Mar 02, 2018

Malls are Closing: Could Amarillo be next?

(Story)

Feb 23, 2018

Randall team earns second place in Science Bowl competition

(Story)

Feb 14, 2018

New UIL Realignment for Texas Schools

(Story)

Feb 01, 2018

Eagles vs Patriots: Super Bowl LII 2018

(Story)

Jan 18, 2018

2018 Winter Olympics Approaching Quickly

(Story)

Jan 18, 2018

One for the Books: "The Last Jedi" plays in theatres

(Story)

Dec 15, 2017

Sliver Ball Winter Formal slideshow

(Story)

Dec 12, 2017

Holiday Traditions: Evolving or Dying?

(Story)

Nov 15, 2017

2017 Christmas Tech Gifts for Teens

(Story)

Nov 01, 2017

Students Participate In Black Out Pep Rally

(Story/Media)

Oct 17, 2017

Band competes in High Plains Marching Classic

(Story)