Flappy bird fly for the last time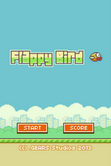 Hang on for a minute...we're trying to find some more stories you might like.
The recently popular and world-renown mobile game, Flappy Bird, has caused quite a bit of commotion throughout the digital world. It has recently been taken off of all application stores, and is no longer available to download on any mobile device.
The creator of the application, Dong Nguyen, removed it from app stores a few days ago, because he said it ruined his simple life. The game had over 50 million downloads from around the world, and was number one in most app stores over a period of weeks. Although the game was widely popular, Nguyen said it was becoming an unhealthy addiction and needed to be taken down immediately.
If someone can afford it and is willing to spend around $1,000 to $5,000 dollars for a used iPhone with the game pre-installed, that is an option. Since that is not a popular option among society, several companies have released applications that are very similar, such as Flappy Fish.