'The Best Man' worth the wait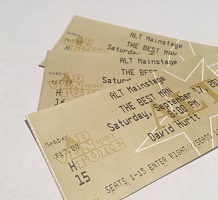 Hang on for a minute...we're trying to find some more stories you might like.
The Best Man is set in 1960 while the presidential election is in full swing. Secretary William Russell and Senator Joseph Cantwell are competing for the presidential nomination. Amidst personal scandal and public drama, this political play is sure to have you on the edge of your seat.
Secretary William Russell, played by Justin Loe, is the protagonist of the story, and the underdog of the campaign. He is a good man who believes in winning fair and square. He has strong morals and believes he can break America free from political corruption. Senator Joseph Cantwell, played by our own theater director Cy Scroggins, is the complete opposite of Russell. He is a classic power hungry politician who seeks to win through personal attacks and playing dirty.
This story gives the viewer a sense of what political life looks like behind the scenes. For example, William Russell and his wife, Alice Russell are actually separated but put up a false front for the sake of his campaign and Joseph Cantwell has some skeletons in his closet as well.
The Best Man is currently showing at Amarillo Little Theatre from September 15-25. Tickets for Thursdays and Saturdays are $13 for children 12 and under, $16 for students and senior citizens, and $19 for adults. Tickets on Fridays and Saturdays are $15 for children 12 and under, $19 for students and senior citizens, and $21 for adults. Don't miss out on this fantastic show!