A Spoonful of Sugar: Mary Poppins opens at Amarillo Little Theatre
A chimney sweep, a couple of mischievous kids, and a nanny with a few tricks up her sleeve. Mary Poppins hit the Amarillo Little Theater Stage Sept. 21, with Kristen Loyd starring as the mystical and meddling nanny, Mary Poppins. Mary Poppins is ALT's first mainstage production of the season, and is a collaboration between ALT and the ALT Academy program for students. Along with Kristen is Jason Crespin, academy director, who plays Bert, the ever-optimistic chimney sweep. George and Winifred Banks are played by Brandon Bellar and Bethany Fields. Joining the adults in the production are academy students Taylor Henderson as Jane and Noah Hartman as Michael. This production is full of upbeat music, unforgettable dance routines, and a touch of magic. I was fortunate enough to see Mary Poppins this past Saturday night and experience the magic for myself.
Mary Poppins follows the Banks family, which, like many others, is chaotic and a bit dysfunctional. Mr. Banks slaves away at his job while Mrs. Banks manages "domestic affairs." Part of these domestic duties includes finding a suitable nanny for their two children, Jane and Michael. Going through nanny after nanny has left Mrs. Banks feeling discouraged, and she is on the verge of giving up on the seemingly hopeless search for a perfect nanny for her children, that is until a mysterious woman dressed in black, donning an umbrella and a hat appears at the Bank's household in response to an "advertisement." Mrs. Banks is bewildered as neither she nor her husband placed an advertisement for a nanny, but the nanny calmly introduces herself as "Mary Poppins" and explains that she responded to an advertisement written by the children. The children initially dislike Mary Poppins because she is a no-nonsense type of nanny who has no time or patience for ill-behaved children. While Mary Poppins means business, she assures the children that she is well qualified for the job and that they will like her. Mary Poppins' first order of business is taking the children to the park where they run into local chimney sweep, Bert. Bert and Mary Poppins seem to know each other and immediately start chatting as old friends do. Mary Poppins and Bert accompany the children as they explore the park and are astonished by the statues coming to life. This is when the children realize that Mary Poppins is no ordinary nanny, and is capable of making the ordinary extraordinary. While the Banks family goes through a bit of a rough time when Mary Poppins takes a temporary leave of absence, she soon returns to help the family and spend a little bit more time with the children, who have grown to love her.
Mary Poppins captivates the audience with its charming characters, energetic musical numbers, and memorable story. ALT's rendition of the classic tale is in a word, "supercalifragilisticexpialidocious!" Adults and children alike are bound to love Mary Poppins. If you have not gotten tickets yet, don't worry! The show will run through Oct. 8, and tickets are available through the ALT box office at 806-355-9991. The performance dates are as follows:
Sept. 21, 28, Oct. 5 @ 7:30 pm
Sept. 22, 23, 29, 30, Oct. 6, 7 @ 8:00 pm
Oct. 1, 8 @ 2:30 pm
Information provided by amarillolittletheatre.org
About the Writer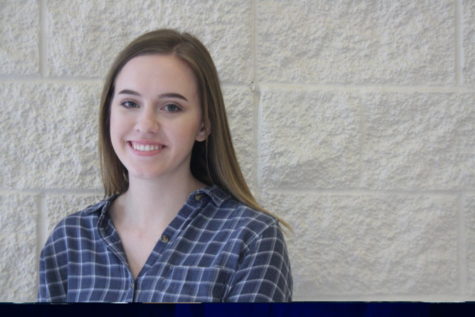 Abigail Hurtt, Editor-In-Chief
I am Abigail, I am a senior, and am editor of the newspaper for 2017-2018. I joined newspaper because I love writing and like to keep up with what is going...