'Stranger Things' Star Finn Wolfhard Shows Musical Side
A Young Actor with Good Tastes
The time is nearing Halloween. The change in seasons bring colds to unsuspecting children, strip coniferous trees of its leaves, and give the common adrenaline junkie his or her fair dosage of horror movies. This is the time many live for (aside from Christmas, of course), and for rising star Finn Wolfhard, this is when he thrives.
Although Finn Wolfhard, the baby faced 14-year-old Canadian mopped with black curls, is most notable for his roles as Mike Wheeler in Netflix's Stranger Things and Richie Tozier in the 2017 adaptation of Stephen King's It, his fame did not start there. At the start of his acting career, Wolfhard landed small roles on television such as the CW's The 100  and Supernatural, which helped shape his debut as a young actor. However, some of Wolfhard's fame can also be accredited to his good taste in music.
Wolfhard starred in two music videos for Canadian punk rock band, PUP, and one with Californian band, Spendtime Palace. The first PUP music videos Wolfhard stars in, GUILT TRIP,  follows a fictitious story of how younger versions of the actual band members meet and start the band, while in SLEEP IN THE HEAT, the video takes place three years later and follows Wolfhard who takes on an ill dog as his pet and tries to prolong its eventual death. In the Spendtime Palace music video, Sonora, which Wolfhard co-directed, the theme seemed to be a present day western,where he plays the role of the cowboy who rescues the damsel from her abusive father to have fun at a party.
In addition, the young star even has his own band called Calpurnia, named after Atticus Finch's maid in To Kill a Mockingbird. Two of the band members even made an appearance on the music videos for PUP, one as the young drummer of both videos and another as someone who volunteers to take the dog Wolfhard's character found in the second music video. The band even has two videos of them covering Where Is My Mind by the Pixies and  Wanted You by Twin Peaks.
All in all, Finn Wolfhard seems to be a well-rounded star with talent on the screens, through his voice, with the guitar, and by picking great music. Along with the premiere of the second season of Stranger Things on Oct. 27, Finn Wolfhard has fans wanting in anticipation of what he will bring next–be it through new shows, new demos, or new bands to love.
About the Writer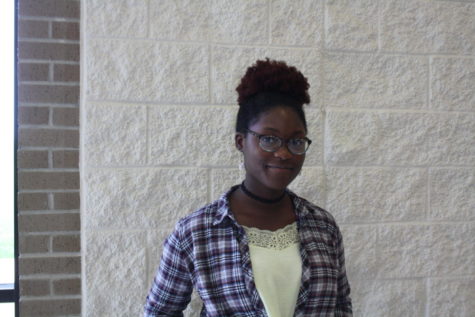 Fatimah Dixon, Staff Writer
Hi! My name is Fatimah Dixon, and I am currently a senior at Randall High School. This is my first year of newspaper, so I am excited to start. The reason...