Student volunteers at Faith City Mission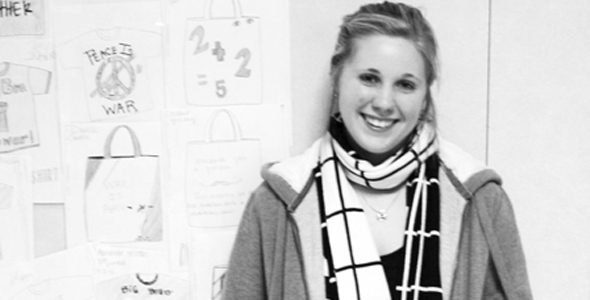 Hang on for a minute...we're trying to find some more stories you might like.
Cold air rushes into the warm atmosphere as the door swings open and more hungry mouths enter the crowded room looking for something to satisfy their growling stomachs. Sophomore Kaila Bellinghausen raises her arm and wipes her brow before cleaning another table and preparing the area for the next guest to arrive. The room is filled with the smell of freshly baked dinner and smiles from the many desperate faces that arrive daily looking for a source of comfort away from the streets they call home. This is not the first time, nor the last time Bellinghausen will spend hours volunteering and catering to the homeless.
Bellinghausen volunteers at Faith City Mission by setting out and cleaning plates, providing tea, and washing off tables for the homeless. She first began volunteering during the summer, and plans to continue doing so.  She also plans to try volunteering at different places, while continuing her work at Faith City Mission.
"I volunteer because [I want] to serve God with my whole heart and I feel this is a way to do that," Bellinghausen said. "I also volunteer because I want to engage the community with serving the Lord, and let people who don't have anyone know that Hillside Church wants them to feel loved and worth something."
Bellinghausen first began volunteering after serving the homeless in Denver on a church mission trip. She said since then, she has felt called to bring the experience home with her.
"The atmosphere is very welcoming, accepting and loving," Bellinghausen said. "I have found while volunteering that there are no judgments, there is only love unlike everywhere else in the world."
Bellinghausen said the most interesting thing that occurs while volunteering is talking to the homeless. She said she enjoys hearing their stories of how "blessed" they are.
"Some of the people who have nothing, while we have so much, still call themselves blessed," Bellinghausen said. "It's life changing."
Bellinghausen said her goal is to share her story and get others involved in volunteering. There are many places around the community that could use help and volunteers.
"[I volunteer] because [it] makes me happy, and it is the least I can do to [lead] others to Christ," Bellinghausen said. "We can change the world, but it starts here."