Student takes on position of Key Club District Secretary
Hang on for a minute...we're trying to find some more stories you might like.
Many seniors are focused on college applications, scholarships, making good grades, and participating in extracurricular activities. Senior Shelby Morton does all of that and more.
In April, Morton was elected to be the Key Club District Secretary for the Texas-Oklahoma District at the District Convention in Dallas.
"I have been interested in Key Club ever since I joined the outstanding volunteer organization my freshman year," Morton said. "While my sister was president my freshman and sophomore (years), I learned a lot about the organization, and last year I decided I wanted a different perspective as well as an opportunity to change this club for the better."
Morton held the position of recording secretary of the Randall Key Club his sophomore and junior year.
"District Secretary, along with the other District offices of the Texas-Oklahoma District, must run in an election at the District Convention," Morton said. "This election consists of caucusing where I gave the same speech to 12 different rooms full of divisions and answered questions. Then I had to get on stage and talk on stage to a room full of close to 1000 peers."
Morton said his peers voted him into office at a House of Delegates meeting.
"As District Secretary, I work closely with the 300 plus clubs in the Texas Oklahoma District," Morton said. "I encourage service and grade reports over what each club did each month. Then I calculate a point total in order to rank our clubs and will announce it at this years' District Convention."
Morton said he then calculates a point total in order to rank the clubs. The rankings will be announced at the district convention.
"The most challenging part of being District Secretary is having to grade all the reports in a timely manner while I still am helping clubs and attending meetings as well as performing other designated tasks," Morton said. "I am over a lot of individuals and doing things in a timely manner and to the best of my ability is a challenge because I am involved in so many things. However, I know I have to set a good example."
In addition to Key Club, Morton is involved in marching band where he is involved in leadership team and a member of National Honor Society. He is also a three-year superintendent scholar and has earned the award of Eagle Scout through his Boy Scout troop.
"I most enjoy being District Secretary because I am able to meet people from all over the country and world," Morton said. "I have friends in Michigan, Illinois, and even the Bahamas because of Key Club."

About the Writer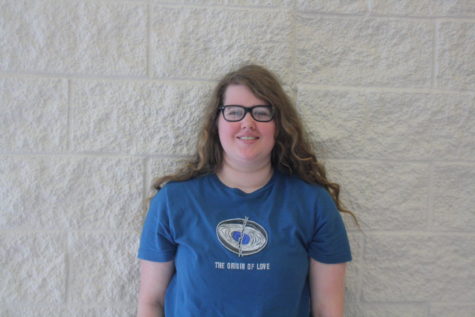 Paige James, Staff Writer
My names is Paige James. I am a senior, and I am involved in theatre and Key Club. I joined the newspaper staff because I enjoy writing.