History in the Making: Disney Features First Homosexual Character Arc
Hang on for a minute...we're trying to find some more stories you might like.
¨I like__.¨ These three simple words can be life altering for a child. A whole new world opens up— previous pastimes now seem obsolete and childish, and hair, more dorky and uncooperative than usual, becomes the bane of one's existence. This is when growing up truly occurs. Boys and girls no longer consider each other as gross aliens contagious with cooties, but are now someone to feel shy around—someone to like. These three words are no stranger for the popular network Disney Channel. However, the network made history when it aired the season two premiere of its newest show, Andi Mack, and had a male character who said the three life altering words–only it was not about a girl.
The show centers around 13-year-old Andi Mack as she adjusts to a new life with the woman she once thought was her sister actually turns out to be her mother. Along the way, she receives help from her two best friends, Cyrus and Buffy, and eventually works up the nerve to talk to her longtime crush, Jonah Beck. In the season two premiere, Jonah confesses his feelings to Andi and the two become a couple, but later on Cyrus confides to Buffy of his own feelings for Jonah.
According to Disney, Andi Mack is about tweens figuring about who they are, and throughout the season this will be displayed as Cyrus continues to explore his own sexuality and come out to his other friends and family. This will be the first gay character arc Disney will showcase and has received complaints and praises alike.
¨(Disney Channel is) children-based and (parents) want their children to watch something that is safe and not something with the outside world in it,¨ senior Blanca Contreras said. ¨Now, the outside world is going into everything. In the Mormon perspective, they always say don't be like everyone else, but be someone like this. Now, it's infiltrating children's brains at such a young age. I think children should grow up normal, and if they see and experience (LGBTQ people) then that's when they should talk about it.¨
According to Contreras, other shows such as The Fosters, which centers around the life of an interracial lesbian couple and their mix of foster, adoptive, and biological children, help to bring awareness to a more mature audience of those living in the LGBTQ spectrum. Other children networks such as Nickelodeon and Cartoon Network, have also begun airing shows with LGBTQ people, which Contreras said may have led Disney Channel to include its own gay character arc.
¨I know that a lot of religions are okay with (LGBTQ people), but some are not like Muslims and Mormons,¨ Contreras said. ¨Everything their religion is based on, this is going against what they believe, and they don't want their children (to) try to be like that. It should be for adults and teenagers because they know what they want.¨
Although Disney made history with its first coming out story, having LGBTQ people on the network is not new. Three years prior, Disney featured its first lesbian couple on its show Good Luck Charlie, and earlier this year Disney debuted its first gay kissing scenes on Star us. the Forces of Evil.
¨I'm glad to see an LGBTQ child on Disney Channel,¨ sophomore Enrique Mata said. ¨In a world where wars are the norm and shootings are just another case of terrorism, I believe that (Andi Mack) helps kids. They need to know that people are different, but are not to be shunned. Plus, (the show) gives someone who is gay a character to relate to.¨
According to Mata, having a show that promotes differences will affect children positively. Mata also refers to the scene after Cyrus confesses to Buffy of his feelings for Jonah, and he is quickly met by his friend's kindness, who assures him that he has ¨always been weird, but no different.¨
¨I think (children's shows in the future) will change for the better with more people of color, LGBTQ (people), and other genders, as well,¨ Mata said. ¨The amount of improvement we need is a lot, but we've made a lot of progress over years, and hopefully, we'll reach our goal.¨  

About the Writer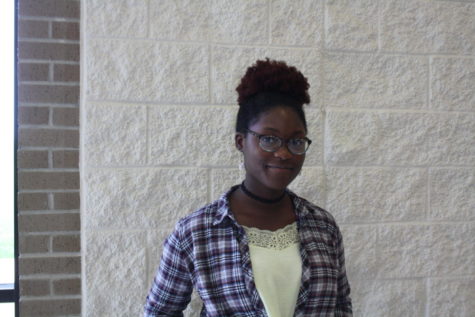 Fatimah Dixon, Staff Writer
Hi! My name is Fatimah Dixon, and I am currently a senior at Randall High School. This is my first year of newspaper, so I am excited to start. The reason...