Cheap D.I.Y. Christmas Gift Ideas for Broke Students
Hang on for a minute...we're trying to find some more stories you might like.
When you're a student, money is the most treasured item you can receive, (besides an A, of course), and with Christmas around the corner, money is still something a broke student has a hard time letting go. However, with these last minute gift ideas you can give the gift of giving without having to forgo a week's worth of meals.
Cup-o-essentials: This easy gift is great for the coffee or tea drinking person in your life. Simply buy a new mug, (Target has some starting at $1.99) and add some of their favorite drink packets. For the hot cocoa lover, add several packs of hot cocoa packs, which can be found at the Dollar Store, and even a bag of mini marshmallows can be added to spruce things up.

Candles: While this may not be the most original present, it does save plenty of time. Candles can be found at plenty locations, but why not shop at the scented destination, Bath and Body Works, where the candles are only $12.95.

Homemade Snow Globe Ornaments: Not only are these fun and easy to make, but they hold sentimental value that will remain in the family for generations to come. Simply grab a miniature clear ornament, white glitter, a tiny Christmas tree, red and white adhesive tape, red string, and a hot glue gun. First, open the ornament and use the hot glue gun to glue the tiny Christmas tree to the bottom of the ornament. Next, sprinkle the white glitter inside the ornament, and add water until it almost reaches the top. Then, put the top of the ornament back on and hot glue it shut. Finally, cut a thin strip of tape to put around the top of the ornament, and use the string to tie a bow to attach to the top of the ornament. If you want to personalize the gift, simply write a message on the tape before adding it to the ornament.

Homemade Traveling Journal: This gift idea is a simple, yet fun way to add a little style to a simple writing essential. The materials can all be found at the Dollar Store: a journal, scissors, a black sharpie, a map, and a glue stick. First, cut out pieces of the map. Next, paste the map pieces on the journal, which can be pasted in a variety of directions. Finally, after letting the journal dry, write the name of the person who you will be giving the gift to. For those with messy handwriting, use stencils or stickers to write the name.
Although it seems that a great deal of money has to be spent in order to give a good gift, this is not the case. Broke students can still give inexpensive gifts for all ages just with a little creativity, and if you're lacking in that department, this list is a good place to start.

About the Writer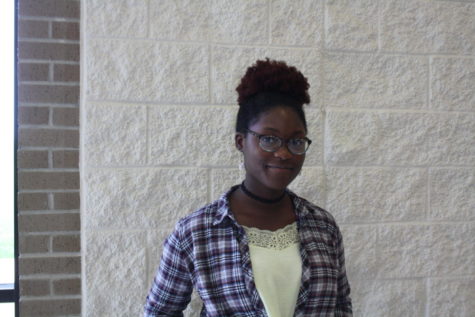 Fatimah Dixon, Staff Writer
Hi! My name is Fatimah Dixon, and I am currently a senior at Randall High School. This is my first year of newspaper, so I am excited to start. The reason I even joined is because I love writing, and it may be something I want to pursue after high school. One of my favorite...