Football team hopes for better after fall in first district game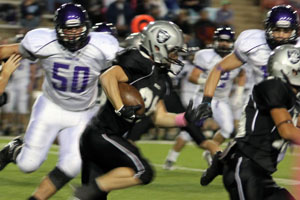 Hang on for a minute...we're trying to find some more stories you might like.
The Raiders will kick off their second district game Oct. 17 against the Palo Duro Dons at Dick Bivins Stadium at 7:30. They will go into the game with a 0-1 record after their loss to the Canyon Eagles Oct. 11.
At the beginning of the second quarter, Randall led 14-7.
Canyon ran an 80-yard return on kickoff and scored a touchdown, but stayed behind after Randall scored a touchback, making the score 17-14.
Randall went on to score with four minutes left in the half widening the lead 24-14.
Canyon called a timeout on the 10 with 50 seconds left, and shortly after scored, bringing the game to 24-17.
At the beginning of the third quarter, Canyon received the kickoff and scored off a 25-yard pass.
Randall fumbled and Canyon recovered on the 36, later pulling ahead 24-31.
Canyon kicked another field goal, bringing their lead up 24-34.
After receiving a kickoff, Randall lost the ball on fourth down.
Canyon went for the field goal on fourth down from their 20, but missed, giving Randall another chance.
The next play, the raiders fumbled with 4:30 left in the quarter, allowing Canyon to recover on their 39-yard line.
Randall got the ball back, and scored off a pass play- shortening Canyon's lead 32-40.
A shallow kick kept Canyon on the 41, but they went on to score with 1:04 left in the fourth, keeping their lead 47 to Randall's 32.
Return kick goes out of bounds, Randall starts on the 25, and within the next few plays, gain the opposite 41.
With 26 seconds left in the game, there was a pass completed to gain the first down.
Another pass completed to the 1-yard line left the Raiders with 4 seconds, but they were unable to score.
Final Randall 32, Canyon 47.