Auditions for school wide musical underway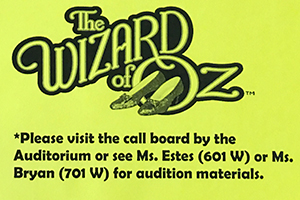 Hang on for a minute...we're trying to find some more stories you might like.
Auditions for the musical production of The Wizard of Oz will be Aug. 30 from 7 p.m.-9 p.m., and Aug. 31 from 4 p.m.-6 p.m. in the west auditorium. Call backs will be Sept. 1 from 7 p.m.- 9 p.m.
Any RHS student may try out to be in the musical. Those interested can visit the call board by the auditorium or see Ms. Estes in room 601W or Ms. Bryan in 701W for audition material.