So I've Been Accepted…Now What?: Tips on picking the right college for you
Hang on for a minute...we're trying to find some more stories you might like.
Congratulations! You've been accepted to college, and you can let out a sigh of relief. You've spent countless hours hunched over the computer cranking out essays and digging up crumpled SAT scores and misplaced transcripts. The hardest part is over right? Well..not necessarily. While getting into college is a huge accomplishment, an equally difficult task lies ahead: choosing which college you want to attend. This process can be daunting and there is a fear of making the wrong decision. The truth is, different colleges are diverse and have different things going for them and against them which can make the decision process confusing and challenging. While I have yet to decide on a college, I do have some useful tips to at least help narrow down your list.
Ask yourself what you are looking for in your college experience. Are you a people person? Do you like being in a crowd or do you prefer a smaller circle with plenty of alone time? Do big classes appeal to you or intimidate you? If you enjoy being the life of the party or want to make a lot of new friends and be involved, then a bigger state university may be a good fit for you. If you tend to learn better in a quiet environment with fewer people, you may want to consider a private university where the student to faculty ratio is typically smaller than that of a bigger campus and the class sizes are more manageable.

Consider the price tag, but don't let it deter you from choosing a particular college. If you are looking to go out of state, price will definitely be a factor as out-of state tuition is usually higher. Although public, in-state colleges tend to be cheaper, private colleges often have large endowments and offer bigger scholarships to accommodate students' financial needs, so the cost of a private education sometimes ends up being about the same as that of a public school. A lot of people are not aware of this and automatically rule out private institutions based on the initial cost of education. Additionally, take scholarships and loans into account when choosing a college. Scholarships can help reduce the cost of college for many students and many schools and local institutions offer them. While students tend to be apprehensive about taking out loans, it is important to view college as an investment in your future. Consider if the remaining debt is worth the benefits of a particular school.

What do you want to do? If you want to be a theatre arts major, you probably don't want to go to a school known for their engineering and computer science programs. Likewise, if you want to go into business or advertising, you may want to rule out schools with a strong emphasis on liberal arts programs. Do some research on your prospective university, and investigate their programs' strengths and weaknesses.

Be honest with yourself. How much work are you willing to do? It's perfectly okay if you want more flexible hours and relaxed courses or if you want to throw yourself into academics and cram in as many hours as you possibly can. You need to figure out what will work best for you, and choose your school accordingly. It's easy to believe that you "should" be going to college for this reason or that, but really it is important to tailor your education to fit your personality. If you aren't the academic type, then an exclusive ivy league school probably isn't your best bet. On the other hand, if you're the next Albert Einstein, you should choose a college that will challenge you and satisfy your academic needs.

Visit the campus! This is probably the most essential part of choosing the right college for you. You can read glossy brochures adorned with smiling college students' faces all day long, but it is hard to truly get a feel for the school unless you visit it in person. If your prospective college offers it, consider going for an overnight visit and staying in the dorms to get an even better idea of what life would be like there. Talk to current students and go to a class if you can. When visiting, don't hesitate to ask questions. After all, you will be living here for the foreseeable future, so it's important to be well-informed!
Whatever you decide to do, trust yourself to make the best decision about college. You know yourself best, and will most likely make the right choice.

About the Writer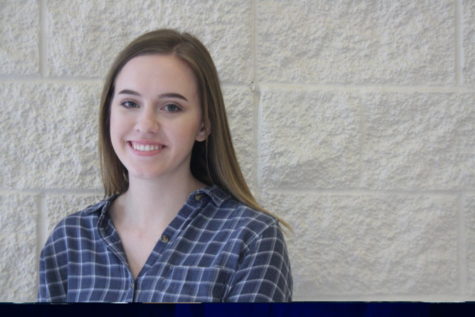 Abigail Hurtt, Editor-In-Chief
I am Abigail, I am a senior, and am editor of the newspaper for 2017-2018. I joined newspaper because I love writing and like to keep up with what is going...