Falling for Fall: Randall Student on His Love of the Pumpkin Season
Hang on for a minute...we're trying to find some more stories you might like.
Halloween is over, Thanksgiving is this week, and people have begun to play Christmas music. Although the season is still Fall, many people skip right to celebrating Christmas when Halloween is over. As a steady track of Jingle Bells plays overhead at JcPenny's, deciduous trees are losing their leaves to join growing families of magnificent red and gold hues on the streets. What's not to love?
For senior Chris Bachman, fall is the season to be in. His interest was sparked around his freshman year when he began to see Fall pictures on Tumblr, which ¨inspired (him) to really embrace how beautiful the season can be.¨
¨(Fall) reminds me of my childhood; my grandma's house would always be decorated with leaves, pumpkins, and scarecrows, and fall just brings back those memories,¨ Bachman said. ¨There is so much to do in the fall season: carve pumpkins with your friends, go to a pumpkins patch or corn maze, (go to) football games, and coffee dates.¨
Along with the festivities that come during the Fall season, Bachman takes special pleasure in the seasonal fashions and pumpkins.
¨Burnt orange oversized sweaters, peacoats, plaid scarves, and boots are my favorite (clothes) to wear in the not too hot or (not) too cold weather,¨ Bachman said. ¨My number one way I commemorate (the season) is to decorate my room by adding fairy lights, fall garlands above my bed, and pumpkin candles. I have a huge collection of scarves and flannels that I break out for the season, and an occasional PSL (pumpkin spiced latte) wouldn't hurt to get in the Fall spirit.¨
Bachman usually begins to celebrate the season around September, but would start in July if given the option. In the past, Bachman continued the practice of carving pumpkins, but recently he has chosen another method to decorate them.
¨Carving pumpkins is always a tradition, but lately I've started to paint them instead. I always invite my friends to paint pumpkins with me, take pictures in the foggy (fall) mornings,  or go to a haunted house or something. I love fall because there´s always festivities you can share with others.¨
Another way Bachmann gets into the spirit of the Fall season is by watching holiday movies, such as Hocus Pocus, Halloweentown, and It's the Great Pumpkin, Charlie Brown.
¨I don't necessarily stop celebrating fall, (I) just slowly transition (into) my lesser obsession with winter,¨ Bachman said. ¨Fall and winter are just perfect times to be cozy and enjoy the simple things that all remind us of our childhood.¨

About the Writer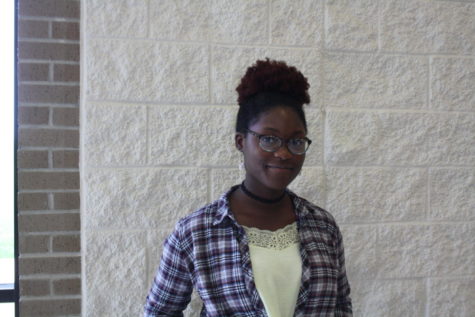 Fatimah Dixon, Staff Writer
Hi! My name is Fatimah Dixon, and I am currently a senior at Randall High School. This is my first year of newspaper, so I am excited to start. The reason I even joined is because I love writing, and it may be something I want to pursue after high school. One of my favorite...