Working for the Gold: Student competes in Power Tumbling events nationwide
Hang on for a minute...we're trying to find some more stories you might like.
The fluorescent lights of the gym shine upon the bright colored mats lined on the floor. On one end stands a coach, and on the other end stands a power tumbler, focused on the task ahead of him. He begins to zone out all the familiar sounds around him and takes one final breath before running towards the mat. After his hands make contact with the mat, he is suddenly in the air performing backflips all along the distance of the mat. One might recognize this power tumbler as another student in the halls of Randall.
Junior Aaron Jett is a power tumbler who has been training at the All American Gymnastics gym ever since the age of nine. He now trains up to five days a week, and actively performs in competitions all across the country, allowing him to become the 2017 men's level-10 national champion.
"I was really hyper as a kid," Jett said. "My mom tried to find something for me to do in Albuquerque, where I used to live, and (gymnastics) was there. As I got older, I kept doing it, and I just stuck with it."
Jett said he began with regular gymnastics, also known as aerial gymnastics with consisted of the bars and beam. When he and his family moved to Hobbs, New Mexico, he found an aerial gymnastics gym that Jett said he disliked and so he found a different gym that only centered around power tumbling.
"I do trampoline events too because my gym has that," Jett said. "They don't make me go hard on that because I'm better at power tumbling."
At competitions for power tumbling, Jett said in order to advance to the next level he must acquire a certain score from the judges. He has qualified for nationals five years in a row and won last summer in the men's level 10 division. This year he will compete in the senior level division in his competitions.
"I'm going to continue (power tumbling) after high school," Jett said. "Once I get too old, I'll stop because it's hard on the body."
Jett has suffered injuries such as falling on his head and chipping five teeth. Just last week, Jett landed on his neck at a competition. In spite of these injuries, Jett continues to compete and said he plans on making the Olympic team.
"Power tumbling itself isn't the Olympics," Jett said. "But, I can go on team USA if I get a certain number of points from meets and then I can get on the National team and go to the world championships. You can perform in the Olympics but you won't compete in it."
According to Jett, the thrill of the sport and his passion for the sport motivates him to compete along with his trainers.
"T.J, my conditioning coach from Hobbs, was at the first power tumbling gym I went to," Jett said. "He made us work out hard and I hated him. He put that drive in me to work hard and push myself."
In order to compete at the level Jett competes at he said he has to have a lot of self-discipline. Jett said he has been able to earn multiple scholarships that will benefit him in the future when he attends college because the scholarships are not restricted to a certain schools. Along with scholarships, Jett said he has also received lessons from power tumbling.
"It's taught me not to care about what people think about me wearing a leotard," Jett said. "(Power tumbling) has also taught me if you work hard you can get where you want to be."

About the Writer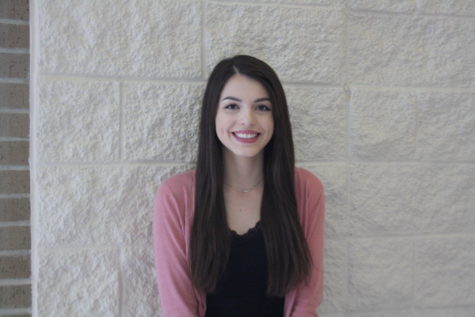 Natasa Dobras, Staff Writer
I'm Natasa, and I am a senior at Randall. I was first introduced to Journalism freshman year, where I instantly fell in love with writing articles. This...