Girls cross country team to compete for state title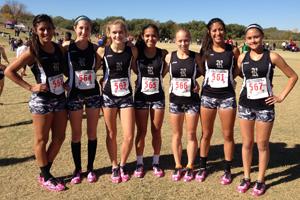 The girls cross country team will compete for state Nov. 9 in Round Rock, near Austin.
The team won the regional meet this past weekend at Thompson Park in Lubbock. Freshman Karyss Betzen finished second overall and qualified for state individually. Junior Erika DeWitt finished third overall and qualified for state individually. Senior Bernise Altamirano placed eleventh, senior Samantha Jones placed twelfth and freshman Adriana Martinez finished in sixteenth place.
The top 10 runners qualified to compete individually at the state meet and the top three teams qualified in the team division. The Randall team finished in first with 46 points. Similar to golf, in cross country, teams want a low score. The second place team, Canyon High School, finished 71 points behind the Randall team with a score of 117. Horizon finished in third place with 140.
Randall is currently ranked first in state. The two schools that are coming closest to their team score is Kingwood Park and Austin Vandegrift, who each recorded regional scores of 74. The Randall team will face off against both of these teams at the state meet. There will be four regions represented at state, with a total of 12 teams competing for a state title.
"Some of the favorites didn't win their region but they still qualified to compete at the state meet," coach Rebekah James said. "You never know (how they will perform at state.)"
James said many of these "favorites" could've been more focused on preparing for state than placing first in their region.
"They could've ran hard through week and had dead leg at regionals," James said.
Although the Randall team is the favorite coming into the state meet, James said the girls shouldn't get over-confident.
"They will be running a different course," James said. "The humidity (could be a factor), but hopefully the elevation will work to our advantage since Amarillo is higher in elevation than Roundrock."
This will be the team's fourth consecutive state appearance. It is their second year to win district and first year to win regionals.