Student advances in debate
Junior travels to capitol in Austin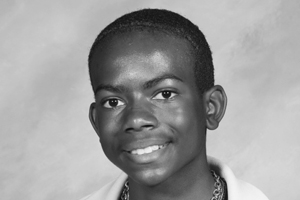 It's the chair the most important man in the state rests in. Notable decisions are made on the same four legs: laws passed or declined, ideas becoming reality. It lies in a quiet room where its occupant can think and can contemplate the dilemmas of the state. Although the head honcho of Texas doesn't sit in it now, junior Chris Jackson feels the heavy wood and the weight of the state as he relaxes in the Governor's chair.
Jackson went to Austin to compete for the first UIL Congress State Meet in debate.
"Congress is the event where we mock our congress in the White House," Jackson said. "We each have to give a three minute speech on a topic. The topics involve current events. I didn't make it to finals to compete in the Capitol, but I did receive a private tour. [My favorite thing about the trip] was sitting in the Governor's chair where he signs bills and laws."
Jackson wrote 18 different speeches for the two rounds combined. He said "competition was fierce."
"There were multiple pieces of legislation we talked about," Jackson said. "The main one we debated was an automatic [bill pay] for all citizens for two years. I had to compete against 42 different people representing their own school. In Congress there can be over 20 people competing per room. "
According to Jackson, participating in debate helped him to develop stronger English and political skills.
"The debate team helps me work to improve my sentence structure in all my essays for English," Jackson said. "Whenever we receive a philosophical topic in English, Debate helps. Debate in itself is all about politics at times. I no longer accept what I am told but I go and research for myself in order to enhance my education on news."
Debate has created scholarship opportunities for Jackson.
"[I qualified for] a small $100 scholarship to WT," Jackson said. "I have [also] been recognized by Stanford Law School and will attend a pre-law program over the summer."
Jackson said debate is more than what people think it is. Debate is not only speaking events, but it also includes acting events that people "fail to acknowledge."
"There are many ways debate can be helpful to an individual in high school," Jackson said. "We enroll in many speech tournaments that someone can qualify to receive scholarship money."