New Movies to Watch for in 2018
It is finally 2018. For some, the new year is a chance to use the gym membership collecting dust in their wallet or reconnect with old friends, while others may see the new year as the beginning of a healthier lifestyle choice or a chance to make better budgeting decisions. Many people have different things they look forward to at the start of the new year. However, besides the often short-lived resolutions people look forward to in 2018, one thing is certain: the start of the new year brings new features to look forward to.
For moviegoers, 2018 will involve many trips to the movie theaters. Long awaited sequels such as The Incredibles 2 and Deadpool 2 will finally make their debut during the year, among many other popular movies such as Black Panther. However, for senior Kami Velarde, it is Insidious: the Last Key, that ranks high on her must see list.
"I am a huge fan of horror movies, and Insidious is supposed to be the best sequel so far," Velarde said. "(This) Insidious is about a family that must deal with their new home being haunted by a demonic entity."
The movie, which came out Jan. 5, is a continuation of the Insidious franchise and follows the main character, Dr. Elise Rainier, as she returns to her childhood home after receiving a phone call from the house's current tenant who believes it is haunted. Although Insidious stars Lin Shaye, Velarde's favorite actress in the movie is Stefanie Scott, who is better known from her work on Disney Channel's A.N.T. Farm and Frenemies.
"I am mostly excited about The Incredibles 2 because I have been waiting so long for the second movie to come out," senior Alejandro Guerra said. "I am a big fan of action/adventure movies."
In addition to the sequel of The Incredibles, Guerra is looking forward to seeing Venom because he "(loves) watching Spiderman movies and thought it would be (an) exciting movie to watch." Venom, which debuts in the beginning of Oct., is based on the anti-hero, Venom, who appears in the comics. Eddie Brock, the person who eventually becomes Venom, is played by Tom Hardy.
"I love action and comedy movies," senior Nicholaus Witt said. "I am a huge Marvel's fan and have been waiting for (the Avengers: Infinity War) movie to come out since the first Avengers movie; I saw the trailer the day it came out on YouTube."
Many major actors and actresses, such as Robert Downey Jr, Chris Evans, Scarlett Johansson, and Chris Hemsworth, will appear on the new Avengers movie, which is set to appear on screens in early May. Avengers will also bring in other worlds from across the Marvel Universe, such as Star-Lord, played by Chris Pratt, from the extraterrestrial universe of Guardians of the Galaxy.
Other popular movies set to make it to screens in 2018 are the New Mutants, Tomb Raider, Ocean's 8, Black Panther, and A Wrinkle in Time. Ocean's 8, which will be released June 8, takes on a similar route as the recently rebooted Ghostbusters with an all-female cast, including superstar actresses such as Sandra Bullock, Rihanna, Cate Blanchett, Anne Hathaway, and more. Black Panther, one of the most anticipated films of the year, will be debuted Feb. 16. In addition to its all star cast, many people have been anticipating the drop of the movie's soundtrack. Tomb Raider, another movie Velarde anticipates seeing, stars The Danish Girl Alicia Vikander. The movie centers around Vikander's character, Lara Croft, who is hoping to solve the mystery of her missing father by traveling to the last place he was seen.
"I am incredibly excited about the new movies choices coming out," Velarde said. "Tomb Raider and the Incredible 2 are other movies that I cannot wait to go see."
About the Writer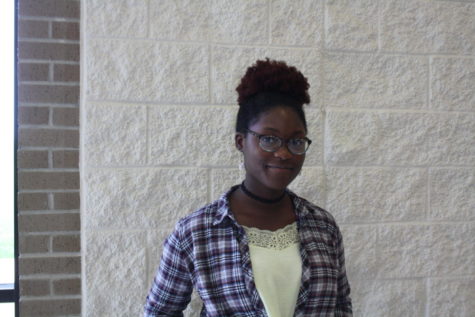 Fatimah Dixon, Staff Writer
Hi! My name is Fatimah Dixon, and I am currently a senior at Randall High School. This is my first year of newspaper, so I am excited to start. The reason...