The Queen's Gambit Portrayal of Addiction and the Problem with Success
Netflix over the past few years has arguably had a reputation of producing rather lackluster exclusive content for their platform. You only need to look back to projects like Death Note(2017) which was a live-action adaptation of the Japanese manga by the same name. The adaptation fell short of the fan's expectations and went on to disappoint critics. This is what personally keeps me from watching much of what Netflix Produces aside from a few diamonds in the rough like Love Death and Robots(2019). When I initially heard of The Queen's Gambit(2020) I wrote it off as nothing more than another shallow project from Netflix, and the premise of watching such a visually lacking or glamorous game like chess also put me off from the series. However, in the coming weeks, it gained immense popularity and praise from critics so much so that my parents recommended that I give the show a shot.
In the 1950s and '60s abruptly orphaned nine-year-old girl, Beth is abruptly orphaned. (Played by Anya Taylor Joy and Isla Johnston) she is promptly sent to a girl's orphanage and discovers that she has a natural talent for chess after playing a game with the orphanage Janitor. The orphanage also makes the children take tranquilizers in order to "even their disposition".Beth then becomes addicted to these drugs and the show kicks off her slow spiral toward addiction and isolation. Beth from then on becomes motivated by obsession and drugs in order to break into the male-dominated world of chess.
The color palette combined with the simple yet interesting camera angles makes every shot strikingly stunning.  Like I stated previously I underestimated Scott Franks Directing skill in order to portray chews in an intriguing way but not only is he able to make chess a passion-filled bloodsport but he is also able to take something like a simple shot of a mop and make it look visually interesting. The color also seeks to immerse the viewer in the show since color television didn't become mainstream until the '60s. Since the show is a period drama and is set in the '60s mostly mute and washed out colors provide a good medium between black and white television and Modern fully colored television and is reminiscent of television during the time period.
A lot of people give Anya Taylor Joy most of the credit for the excellent acting in the show but I would also like to highlight her younger counterpart, Isla Johnston. She perfectly portrays a naive girl lost without her parents. She comes off as really quiet and cold to other characters. She even acts like this to one of the other girls Jolene that befriends her.
About the Writer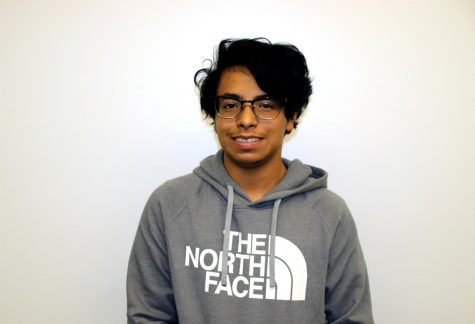 Julian Miranda, Junior Staff Writer
Julian Miranda is a senior. Julian wanted to join journalism because he enjoys photography and videography and would also like to seek a deeper insight...