Key Club asks students to eliminate Bieber for babies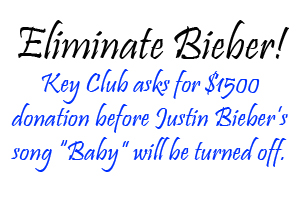 Hang on for a minute...we're trying to find some more stories you might like.
This week, Key Club is helping to raise money for the Eliminate Project, a global campaign that works towards eliminating maternal and neonatal tetanus. The Eliminate Project website says it takes $1.80 to protect one woman and her future children from the deadly disease.
The group's goal is to earn $1,500 , enough to save 833 woman and even more children,  by the end of the week. In order get students and teachers to donate, sponsor Cassi Wells has come up with the idea of "Eliminating Bieber for Babies".
All week, during every passing period, Justin Bieber's hit song "Baby" is being played over the PA. The only way the music will stop, is if students and teachers donate money. Key Club members are taking donations between classes and during activity period. There are also donation containers located in the front offices of both buildings. Only after the goal of $1,500 is met will the music be turned off.
The time between classes is seven minutes, the song is three and half minutes long, meaning it will be played, beginning to end, twice every passing period. With changing classes seven times a day and five days a week, the song has a chance to be repeated 70 times by the end of the week.
The student body is made up of more than 1,500 students. If each student donated a dollar, the music could be turned off within the first two days.
See this YouTube video to learn more about the Eliminate Project. http://www.youtube.com/watch?v=TwcZsxza9nQ&feature=share&list=PL4D16C1F8961A8FB5