Women's March is Held In Consensus With Nation's Protests
Hang on for a minute...we're trying to find some more stories you might like.
In Downtown Amarillo, a demonstration in support of women's rights and equality, sexual assault awareness, and LGBTQ equality was held. The march was hosted by Indivisible Amarillo, an activist group that hopes to bring about positive change and awareness to communities through peaceful demonstrations.
Within the past year, the topic of women's rights and equality are being brought to the forefront as new cases of sexual assault are being reported every day. This topic of the sexual assault cases has given rise the 'Me Too' Movement in 2006 and the 'Time's Up' Movement this year, which sparked an all-black dress code in solidarity for those attending the 2018 SAG Awards. For junior Taylor Mixon, this movement could not have come any sooner.
"I think (the march) is a great way for women to express themselves and their opinions," Mixon said. "It empowers timid women to stand up for themselves so (they) can gain equal rights. I think that both the movements (the 'Me Too' and the 'Time's Up' movements) have provided Americans with a revelation to the fact that it's time to change our ways and support one another."
Even though Mixon agrees that the march will help to bring about awareness regarding gender inequalities between men and women– such as unequal pay– she does feel that change will not happen automatically; instead, she believes change will take time as people's viewpoints change.
"With this march, women are hoping to achieve their ultimate goal: to have the same rights as men," Mixon said. "(But) I believe that we will (not) fully achieve equal rights because not everyone in the world will agree. The only thing we can do is continue these marches."
Many high names in the entertainment industry have been accused of sexual assault: Director Morgan Spurlock who starred and directed in the documentary, "Supersize Me," has admitted guilt over a rape he committed in his college days, New York's Metropolitan Opera Conductor, James Levine, was fired over allegations of sexual assault, news anchor Matt Lauer of NBC's 'Today' was fired over allegations of sexual assault in the workplace, Russell Simmons, producer of the Def Jams label, was also accused of sexual misconduct, and many more. There have even cases in the Olympics involving the former Olympic medical doctor, Larry Nassar, which has brought forth 125 victims. However, the onslaught of sexual assault cases in the country does not surprise Mixon.
"I'm not surprised at all (of the number of sexual assault cases) because people are motivated by others and seeing even celebrities share their stories, I figured the numbers would be high," Mixon said. "After both movements, every day at least one woman (came) forward about their traumatic experience, (which) helps other women feel empowered to share their story, as well."
Although sophomore Joshua Schmitt was not aware of the women's march that took place downtown, he is "glad to see people standing up and not letting themselves get walked all over." Schmitt believes that the march's primary objective was to make people aware because change cannot happen if people are not aware. For Schmitt, spreading the demonstration to downtown Amarillo means that it is headed in the right direction.
"It's never just women who suffer," Schmitt said. "I know plenty of men who were sexually assaulted as a child or even as of last year. I believe that the main problems of women's rights have been fixed and if not, then they have at least been recognized, which is the first step. Without awareness, you can't get anything done."
This information is provided by NBC News and ABC News.

About the Writer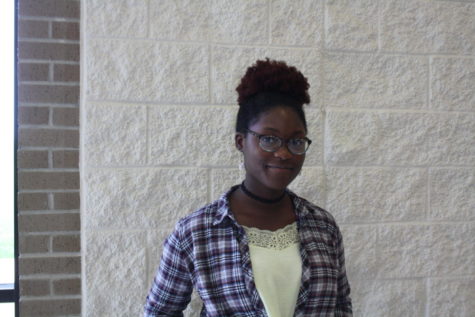 Fatimah Dixon, Staff Writer
Hi! My name is Fatimah Dixon, and I am currently a senior at Randall High School. This is my first year of newspaper, so I am excited to start. The reason...