24th Member Inducted Into The Raider Hall of Fame
A row of photographs line the hallway outside the auditorium. There is a single person in each photo, all dressed in suits. Some are men, some are women and a short, typed biography sits below each picture. A doctor, a singer, an attorney, they all have unique professions and stories, but they all have one thing in common. Together, they are the Raider Hall of Fame.
Each year, during homecoming week, a new person is inducted into Randall's Hall of Fame. It is a day to celebrate the accomplishments of a member of the Raider Nation. This year, that person was Jeff Schwartzenberg, Randall's 24th member of the Raider Hall of Fame.
"Jeff Schwartzenberg is no stranger to the tradition of excellence and commitment to excellence at RHS," Principal Steven Singleton said. "He has been committed to the Raider Shield for the last 10 years and has been involved in every aspect of our campus."
"
He has been committed to the Raider Shield for the last 10 years and has been involved in every aspect of our campus."
— Principal Steven Singleton
Each year, staff nominates potential inductees and the school's leadership committee decides the finalist. The criteria is that the nominee should have made a positive impact or significant contribution to Randall High School or the community of Randall High School and be a former student, teacher or community member.
"(Schwartzenberg) has been heavily involved in our Raider community," Singleton said. "Before becoming the president of the booster club in 2011, he was a driving force in helping bring a spotlight to our youth sports and supporting the community of RHS as a voice for our kids.  Not only was he there as a dad for his three kids, John, Jake, and Annika, but he was an advocate for every student that was current, former or incoming to RHS."
Over the years, Schwartzenberg has just about done it all: cleared snow from the baseball field, supported Randall sports programs through the booster club, placed Raider yard signs, made helmet stickers, worked concession stands, hosted team dinners, took team photos, created banquet videos, organized homecoming parades, served on a campus advisory council. The list goes on and on.
"As both a parent and now a community member, his dedication to our Raider community has been one that has continued to grow our traditions and magnify the excellence of our students and support of our parents," Singleton said.
About the Photographer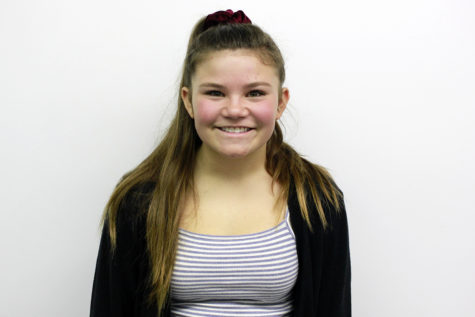 Alana Hogan, Junior Staff Writer
Alana Hogan is a freshman, and this is her first year in journalism. Hogan joined because she loves to read and write.

Other Interests:Volleyball

Favorite...