A Day In The Life Of A Pregnant Teenage Boy
Sophomore Gage Moore plays safety on the football team, can eat an entire pizza in one sitting, and on Oct. 16, he was pregnant.
Moore is a student in the child development class. Child Development is a class that explains the ins and outs of raising children. In October, the class started their pregnancy suits and robotic babies chapter. During this chapter, the typically female populated class takes turns wearing a pregnancy suit for a day.
"I joined the class because I thought it was going to be a simple class," Moore said. "I thought it might help me in the future."
When it came time for students to strap on the baby bump, being male didn't make Moore the exception. He, along with the girls, received a crash course in what it feels like to be pregnant. Moore said experiencing the strain a pregnancy has on the back opened his eyes to the strength women must have to carry that much weight for nine months. 
"I was slower and I was constantly having to use the restroom," Moore said. "My back was sore for the rest of the day, and I was less coordinated [afterward] during football."
There were a total of four males in Moore's Child Development Class who all wore the pregnancy suit. While some might have been embarrassed, Moore said he welcomed the attention.   
"Everyone in the hallways laughed and stared at me," Moore said. "I personally loved that it made people laugh; it made me feel good about it."
Although Moore said he had fun with the assignment, he also developed a new appreciation for the burden carrying a baby takes on a woman's body.
"It would be extremely hard to be a woman and pregnant," Moore said. "I honestly feel like men are blessed that we don't have to carry around a living body inside of us."
About the Writer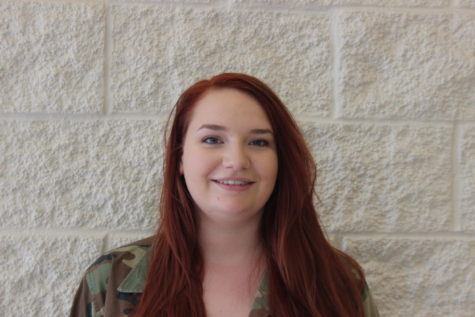 Rebekah Williams, Editor
Rebekah Williams is a senior, and this is her second year on staff and first year as Editor. Williams joined newspaper because she enjoys writing and might...