Football team seeks to keep tradition alive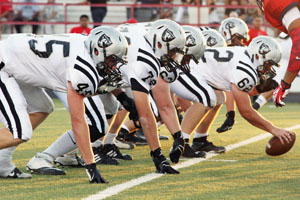 The Raiders kicked off their season with a win Aug. 30 against the Plainview Bulldogs, 30-14, and have continued with a record of 4-1 this season.
The Raiders have been taking the field in a different manner than usual starting with a newer, faster offense.
"We are trying to go up-tempo," Head Coach Bryan Wood said. "It allows an advantage on controlling the speed of the game. If you can control the speed then that allows you to do some things you can't if you were huddling up and slowing down all of the time."
A newer faster offense isn't the only change Wood has made.
"We have changed the defense a little bit," Wood said. "It's not a lot different but every year we just try to add a little bit to make it more difficult for the people we're playing. You always want to add a wrinkle, not get rid of what you're doing but add to it."
Along with these changes in play are the new coaches that have been added to the team.
"We have three new defensive coaches," Wood said. "The cohesive relationship that the coaching staff has transfers over into the team. If you have a bunch of coaches that are on the same page, lots of energy and a tight group, then the football team does the same thing. Fortunately here at Randall, it's been that way every year."
This season the Raiders have also seen a change in players. Last season left them with 20 remaining letterman, and five offensive and three defensive starters, along with losing key players Logan Brittain and Collin Bowen.
"This year, some of the sophomores are on JV and some are on Varsity, so it's a different dynamic for them," Wood said. "It's going to be a different group than they've ever been in. They're hardworking kids."
Wood said he also sees potential in the freshman and JV teams as well, saying the freshmen have some of the best skill players he has seen since arriving at Randall.
"The expectations for that group are high," Wood said. "[But] I think that the expectations for all of our teams is the same- know what you're doing and play hard and don't forget to have fun while doing it."
The Raiders have made it to playoffs for the past three years in a row. With that being said, there is also tradition to uphold, and that begins with finishing strong, the team motto.
"I always let the captains decide on their motto," Wood said. "[Finish Strong] is actually a Tim 'Tebow-ism'. It's just about how you want to play hard all of the time but the teams that finish strong at the end of the game or at the end of a workout are the guys that will win. That's what [the team wants] to be their legacy, that they were never quit no matter what. No matter if they are way ahead or way behind or if it's a close game at the end, that's [how] our guys are going to finish. We use it every day in practice and we talk about finishing things right all of the time."