Cross Country tradition continues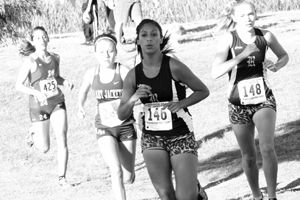 Like past years, the girls' cross country team at Randall has been that of high state ranking and hard work. The team is currently fourth in the State and has won every meet they have attended thus far.
"I am excited about how well the girls are running," coach Rebekah James said. "Our biggest strength is our work ethic. No one will outwork us."
The team practices twice a day with meets on Saturdays. The first workout starts at 5:30 am and the other during 8th period and after school. Though it seems like a lot of work, James said the biggest obstacle of any good cross country team is staying healthy throughout the season.
"Erika DeWitt is a returning junior to watch," James said.  "She was our #1 runner coming into the season but has been sidelined by a hip flexor injury.  She is back now and just needs to get in race shape."
James said other runners to watch are the seniors, along with freshman Karyss Betzen, who has won the last two meets.
"Karyss is a great runner," James said. "[She] will only get better and better as the season goes by. Adriana Martinez is also a freshman that has been coming on strong."
James said the team works hard running, and has high hopes to be on the medal stand at the State meet, but that isn't her only main priority.
"Our hopes for the season are to medal at state and find great colleges for the seniors to run for next year," James said. "They are all beasts."