Band falls short at regional competition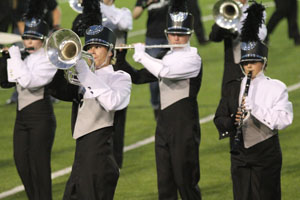 Hang on for a minute...we're trying to find some more stories you might like.
The band competed in the UIL Region Marching Competition Saturday, only to receive a division two. The band needed to receive a division one to continue on to the Area Competition.
At Saturday's contest, bands were judged on the precision of the marching and fluidity of the music. A one is considered a superior performance and a two is an excellent one.
The Canyon and Amarillo High school bands both received a division one, and will proceed on to the Area Marching Competition which will be Oct. 26 in Lubbock.