Tennis team defeats Amarillo High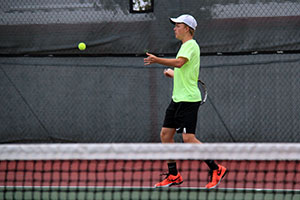 Brailey McMinn, Editor-in-Chief
September 22, 2016
Hang on for a minute...we're trying to find some more stories you might like.
The varsity tennis team took down Amarillo High on Tuesday, winning 14-5. Amarillo High is currently ranked number three in the state and the Raiders are currently ranked 7, however this will change because of the win the Raiders had yesterday.
At one girl's doubles, senior Brailey McMinn and junior Allison Jenkins won their match 6-3, 6-2. At the two line senior Shelby Morris and junior Leslie Omeire won 6-0, 6-3 and at three girls doubles sophomores Brooklyn Hall and Abby Robertson won 6-2, 7-6.
At one boy's doubles, seniors Josh Williams and John Stephens lost a tough match 6-3, 6-0. At the two line, seniors Macauley Webb and Dylan Miera won a close match 2-6, 7-5, 10-2, and at the three boys doubles line sophomores David Stephens and Drew Norman won 7-5, 7-5.
In girls singles, junior Leslie Omeire won 6-4, 6-2, senior Brailey McMinn won 6-0, 6-3, junior Allison Jenkins won 6-1, 6-0, senior Shelby Morris won 5-7, 6-0, 10-5, sophomore Abby Robertson won 6-1, 6-4 and sophomore Lanie Kuykendall won 7-6, 6-1.
In boys singles, senior Josh Williams lost 6-4, 3-6, 8-10, senior Dylan Miera won 6-4, 4-6, 10-8, senior John Stephens lost 6-2, 6-2, senior Macauley Webb lost 6-4, 6-3, sophomore David Stephens won 6-4, 6-4 and sophomore Drew Norman won 2-6, 6-3, 10-8.
The team will play in Pampa on Saturday, and their next district match will be on Tuesday, Sept. 27 in Plainview.