Football Team to Close District, Start Playoffs
The varsity football team will play their last district game against Lubbock Cooper at Cooper this Friday. The Raiders have already secured their spot in playoffs, which will begin the following Friday.
"Playoffs are the biggest chance to be successful and give everything we have," varsity player senior Jakob Schwartzenberg said. "It's a moment that we've worked hard to prepare for. We've worked [toward playoffs] since off-season, summer, and preseason."
In order to compete in playoffs, 1A through 5A teams are split into two divisions and 64 teams from each division make the playoffs. It has one champion per division and two champions per classification.
"The playoffs are a bonus," Coach Brian Nelson said. "It is more time to spend with the kids, but that means more games that we aren't guaranteed."
In 1981, UIL changed the playoff format from the first place team from each district getting to compete in playoffs to the top four teams from each district get to play in playoffs.  This makes a team's chances to win state more difficult. Texas teams only have a 0.9 percent chance to win the championship in a year, which is the lowest in the country.
"
Making playoffs depend on some match ups and staying healthy, as well as being mentally and physically tough."
— Football Coach Grady Benton
"Playoffs are a reward for taking care of business during the season," Coach Grady Benton said. "Making playoffs depend on some match ups and staying healthy, as well as being mentally and physically tough. How you set up playoff practices are just as important."
The scheme is something that both coaches said to be their favorite part of coaching in the playoffs. Nelson said once they get to the playoffs it becomes "Coach vs. Coach" because by then most of the players are conditioned and doing good. Benton said putting kids in the correct formation or right position is their best way to succeed.
"We're sacrificing time because we're raising other people's kids sometimes more than our own," Benton said. "The preparation on Saturday and Sunday is a special moment though. It's the reason I love football."
Benton said he was glad to see last year's team make it three rounds deep. After going 1-4 in non-district, varsity made playoffs this year. They won their two first games before eventually falling to the district for Wichita Falls Rider in regionals. The coaches, however, are pushing their players to evaluate this new opportunity and get their "grind on."
"After every workout, we do six extra push-ups to embed the grind," Schwartzenberg said. "Even though we've finished our season, we still need to push through six more challenges. No matter how tired we are, we need to accomplish what we desire, a championship."
In the past, Randall made it to the playoffs and to Regional Quarterfinals, however, the head coach they had left and coach Gaylon Selman took over coaching.
"It doesn't matter if you're a good coach on the chalkboard if your players don't buy into it," Nelson said. "Making playoffs is not necessarily the goal, the goal is making a playoff run. Everybody has to play 10 games but only the fortunate get to play six more."
About the Contributors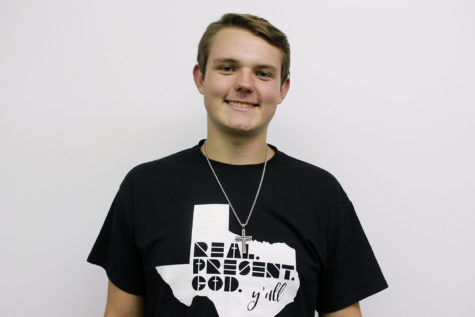 Kolby Marting, Junior Staff Writer


Kolby Marting is a sophomore, and this is his first year in journalism. Marting joined because he would like to go into broadcasting or podcasting.

Other...