Brue Can Do It: Raider Family Shows Support For One of Their Own
On the last day of August, junior Micah Brue was admitted to the hospital. Shortly after, doctors told the 17- year old that he had cancer. Brue, a member of the Randall band and UIL academic team, has Acute Myeloid Leukemia (AML), one of the rarer forms of Leukemia with less than 800 cases in children per year in the US.
Micah receives treatment through a series of drugs known as chemotherapy, which can have numerous side effects, one of which is a lowered immune system. Because Micah's immune system is nearly non-existent, any small infection, virus, or bacteria could be detrimental to his body. Treatment for Leukemia is expensive, extensive and could require several hospital stays and missed work days for Micah's mom. Because of this, students and staff have started raising money to help the family with costs.  
Kettle corn will be sold in the West Commons this Wednesday. The cost is $3 for cones and $5 for bags.
"
He's still a human being, a person, a student, and our friend. It hasn't changed who he is."
— Ginger Denney, Band Director
Then on Thursday, proceeds from "Masked Singer" will be donated to the family. At this entertainment event, attendees will listen to live vocal talent then see which Raider is revealed behind the mask.  The event will take place in the West Auditorium from 4:30- 6 p.m. Tickets cost $2 per person.
In September, students paid $3 per person for an extended lunch, where one-third of the proceeds benefited Micah's family. In addition, band boosters began selling "Team Brue" t-shirts, with 100 percent of the proceeds going to the family.   
"I had the privilege to take the money we raised from extended lunch over to him," Band Director Ginger Denney said. "He is in absolutely great spirits. He is very much Micah. If you know Micah, he is just as talkative and chatty as he always has been- super positive attitude. He's still a human being, a person, a student, and our friend. It hasn't changed who he is."
 There are many ways students and staff can continue to show support for Micah. Those who wish to purchase a "Team Brue" t-shirt can contact Denney. Supporters hope to add "Team Brue" bracelets soon. 
"There are people volunteering in other ways like helping with mowing the lawns, and food and meal trains," Denney said. "That is also helpful for them."
Cincinnatichildren's.org
Friend of Micah, junior Alyssa Lucero, said the best way to support Micah right now is to pray for him and keep him in your thoughts.
"He needs and deserves all the love he can get," Lucero said. 
Because of Micah's illness, he may eventually need a bone marrow transplant.
"Anyone can be a bone marrow donor," Denney said. "Get on the list. It may save someone's life. It's a simple test and you save someone from a different country, a different state, a little kid, a baby, someone, anyone. You could save their life because you happen to be a match when none of their immediate family is." 
People who want to visit Micah must wear masks, gloves, and gowns in order to see him. Anyone that has been exposed to sickness can't see him.
"I know everyone wants to visit, hug, talk, hang out and see how he's doing, but we have germs," Denney said. "Even the  tiniest, most innocuous germ to us, could be detrimental to his health."
While it is best to limit visits, junior Katherine Fox said Micah's friends and supporters can take comfort that he is staying in good spirit.
"He usually talks a lot about how the treatment is affecting him," Fox said. "He finds everything that is happening really interesting. He told us fun facts about what he's going through. We talk about music and normal stuff, he hasn't changed a bit." 
About the Contributor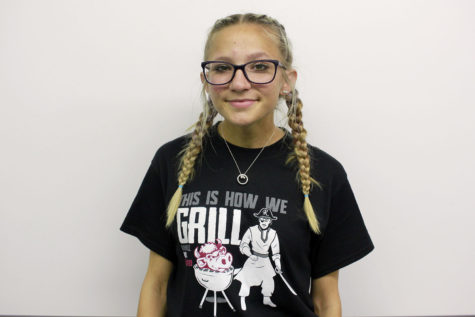 Jayden Murray, Junior Staff Writer


Jayden Murray is a junior, and this is her first year in Journalism. She decided to take Journalism so she could be on the yearbook staff next year.

Other...