Randall Academic Team Wins District Championship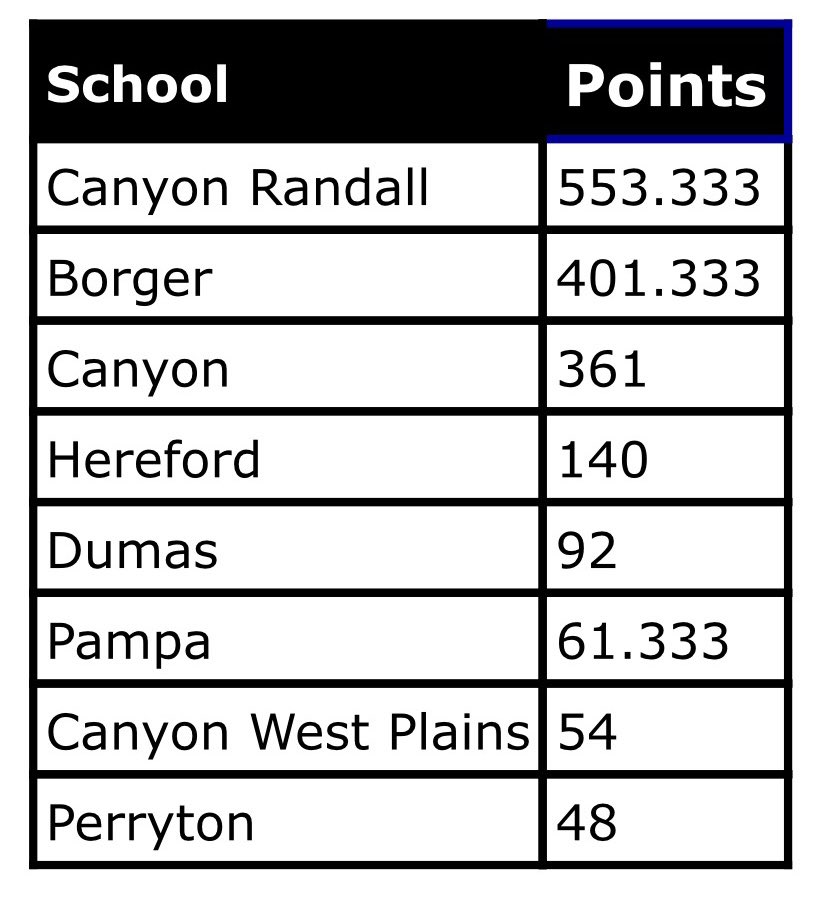 Randall's UIL Academic team are district champions.
The team competed in Borger last Friday and Saturday in hopes of giving Randall their 18th district championship since the school opened. With a combined total of 553 points, the Raiders finished in first place with second place Borger falling more than 150 points behind. Borger finished with 401 points while Canyon came in third with 361 points. Eight schools competed in the contest where points are earned through more than 20 different contests ranging from Spelling to Current Events, Calculator and Computer Applications, Journalism, Speech, Accounting, Science, Number Sense and more.
For each contest, students can earn points for their school by finishing in first through sixth place. In addition, those who place in the top three individually or first in team events advance to regionals.
The regional meet will be at Texas Tech April 21-22. Students who advance at regionals will compete at state in Austin in May.
Accounting:
1st Place Team
1st Vihar Khandhar
2nd Lyzeth Nieves
3rd Shaun Stone
4th Brody Wilson
5th Jaydan Miranda
Calculator:
2nd Place Team Wild Card Region Qualifier
2nd Megan Brue
Team: Megan Brue, Karley Thomas, Teixeira McConnell, Rachel Maxwell, Sierra McConnell, Jennifer Srygley
Computer Applications:
1st Aurora Maestas
3rd Evan Blankenship
6th Alyssa Johnston
Computer Science:
1st Place Team
1st Megan Brue
2nd Hudson Cox
6th Adian Poole
Other Team Members: Lukas Spears, Braeden Brandt, Ethan Beyers
Copy Editing: 
4th Alannah Comerford
Editorial:
6th Ainsley Osborne
Feature:
2nd Ainsley Osborne
5th Alannah Comerford
Headline Writing:
1st Adrianna Ybarra
6th Joselyn Chavez
Informative Speaking:
3rd: Daniel Auburg
4th James Amundgaard
LD Debate:
1st James Amundgaard
6th: Andrew Tharp
Literary Criticism:
2nd Place Team
1st Sidney Perkins
5th Karley Thomas
Mathematics:
1st Place Team
2nd Megan Brue
3rd Ryan Henderson
Other Team Members: Rachel Maxwell, Vihar Khandar, Aurora Maestas, Adain Poole
News Writing:
2nd Ainsley Osborne
5th Joselyn Chavez
Number Sense:
5th Megan Brue
Persuasive Speaking:
1st Luke Brown
6th Renae Phelps
Poetry:
2nd Sydney Tatom
3rd Zaylee Carson
4th Durand Carson
Prose:
2nd Sydney Gove
3rd Brionna Todd
4th Emma Adams-Feland
Ready Writing:
1st Ivy Vo
6th Regan Sullivan
Science:
1st Place Team
1st Megan Brue
2nd Gunnar Willis
6th Ryan Henderson
Other Team Members: Sidney Perkins, Adain Poole, Rachel Maxwell
Spelling:
4th Destiny Aguinaldo
Leave a Comment