Last Minute D.I.Y. Costume Ideas
It seems like just yesterday it was August, and it is unbelievable that it is already the end of October. What is even more unbelievable is that Halloween is only three days away! If you're anything like me, Halloween snuck up quickly and now you are in a time crunch to find the perfect costume. However, there is no need to peruse the picked over shelves of Spirit Halloween or Walmart when you can create a head-turning costume from items your very own closet.
Nerd: This easy last-minute costume idea can work for both guys and girls. All you need is a pair of 3D glasses with the lenses popped out, long white socks, and a good pair of suspenders.

Cat: While this costume idea is typically worn by girls, it can work for guys as well! A black cat is the easiest to do. For this costume, you will need black clothing and a black eyeliner pencil. The eyeliner can be used to draw on a cat nose and whiskers. If you really want to commit to this costume, you can always pick up a cheap pair of cat ears at Walmart or Target.

Ghost: Out of all of these, this is probably the simplest costume. You only need a white sheet, some scissors, and about 5 spare minutes. You will need to cut even slits for the eyes and possibly for the mouth. If you want to be able to keep your arms free for the night, you can also cut slits for your arms and wear a long-sleeved white shirt underneath. For pants, any will work since no one will actually see your legs.

80's: This costume requires a little more effort, but it is a fun option. Get out your teasing comb, scrunchies, and brightest colored clothes you can find. This costume is very flexible and allows you to have some creativity with it. Legwarmers, oversized sweatshirts, and bright leggings can all be used to create an authentic 80's vibe.

Witch: This classic costume can be as simple or as complicated as you want it to be. For a simple witch costume, all you need is a black dress, shoes, and tights. (Striped tights are also a good option.) If you want your costume to look a little more realistic, you can add a touch of green face paint and a broomstick or witch hat.
Whatever costume you decide suits you, the important thing to remember is that Halloween is not really about who has the coolest costume. It's about spending a night of fun dressed as someone or something else. Have fun, stay safe, and happy Halloween!
About the Writer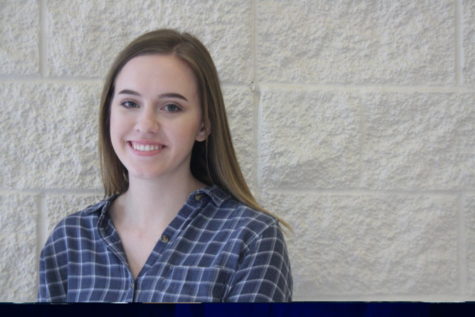 Abigail Hurtt, Editor-In-Chief
I am Abigail, I am a senior, and am editor of the newspaper for 2017-2018. I joined newspaper because I love writing and like to keep up with what is going...