Rabbit exhibitors suffer discouragement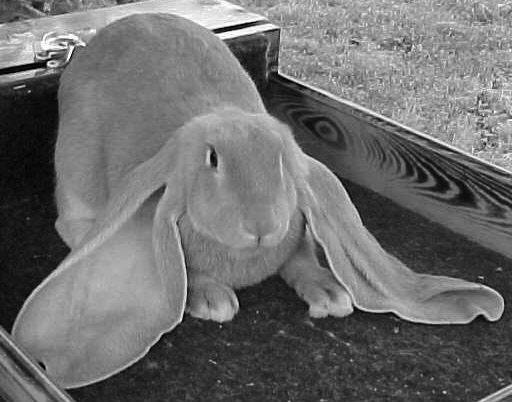 Hang on for a minute...we're trying to find some more stories you might like.
The Randall County Livestock Show Sale Committee will meet Thursday to discuss rules for next year's 4H stock show. The show includes steers, goats, lambs, pigs and rabbits. Animals in the top 80% of each breed class go on to the sale, where they are auctioned off separately for an unlimited amount of money to buyers from all over the Panhandle. The money is given to the child who has shown the animal and is used to keep their animal project going. This includes providing funds for raising, feeding and housing next year's show animal. Since the 2012 show in January, conflicts have arisen concerning the continuation of market rabbit participation. Due to the amount of money rabbits were auctioned off for, many have become irritated that such an inexpensive animal could bring in such great amounts of money.
                The concern of who gets the most money for their animal should not even exist, as all money is used to benefit and teach children livestock exhibitors the art of raising and selling animals for market. Rabbits should not be disadvantaged because of the money they collect. The rabbit project is a great opportunity for 4H exhibitors and takes just as much effort and time as raising a larger, more expensive animal.
                Although a steer, goat, lamb or pig may cost more initially, raising, feeding and housing rabbits is not an inexpensive or easy task, whatsoever. Firstly, while housing a large breed animal may include a few metal panels and some wood shavings, finding a proper place for a rabbit is much more difficult and expensive. Buying a cage may cost anywhere from $50 to $200 depending on preferred size, quality and design, but building the perfect cage that will benefit the rabbit and the owner best may cost anywhere from $100 to $250, not including cage accessories such as water bottles, feeders, nest boxes, etc. Unlike large animals, rabbits are extra sensitive to their surroundings and atmosphere and must be provided for very carefully and cautiously, which can be quite expensive. Not to mention, the cost of coolers and fans to keep these heat sensitive animals at a decent temperature. Although rabbits are extravagantly smaller than other show animals, this does not lessen the amount of food they eat each day. Feeding an average rabbit includes buying a kob of hay every two weeks, and a bag of feed every 3 weeks. Not to say that large animals do not eat a substantial amount, but rabbits have the ability to eat as much as they are allowed too, and this amount can be quite large as they try to make weight before a show. Altogether, raising show rabbits has the potential to clear out the pocketbook just as easily as a larger animal. The helpful funds received at the livestock sale can help to provide for next year's rabbit costs.  
                Very few, if any, steer, goat, lamb or pig exhibitors get their animals from their own product of breeding. Most of these exhibitors find it easier to purchase their animals from a farm a few months before the show. While rabbit exhibitors do buy rabbits from all across the states, most exhibitors breed their own rabbits. This provides the experience 4H projects are designed for, to teach children about raising their own animal for a market show. Learning about the breeding, kindling, weaning, growing and raising process is essential to children who are interested in agriculture and are interested in a future in such a field. The information learned through breeding and raising can help these youth to learn even more about their animal and the breeding process as a whole. When parents buy their children already grown animals from a professional farmer or breeder, the child loses the opportunity to learn about the anatomy and production of their animal. Breeding rabbits helps children to learn not only about the production of their breed of rabbit, but also about animal production as a whole, which is what 4H projects are designed to do. This is also not an inexpensive task, and money received at the sale provides most of the funding it takes to breed project rabbits. Housing and feeding up to 12 kits, as well as taking care of a brood doe can cost a substantial amount of money.
                Minus the politics of livestock, including funding, time and business, the goal of the animal project is supposed to be to benefit 4H exhibitors, build their animal knowledge and provide a positive experience that may spark their interest in an animal career in the future. When coordinators, parents and leaders bicker and argue concerning money and participation, these exhibitors lose the positive experience aspect of the animal project. Instead of providing a good example and helping 4H kids out as much as possible, these adults are more focused on creating a fuss about who gets the most amount of money. The children should have leaders to look up to, who are fair, level-headed and easy going when it comes to the money they receive. After all, the generous buyers who donate money to these animals are doing so to contribute to the child's positive experience, not to cause argument or conflict between participants. Let's all be thankful for any amount of money received instead of analyzing and becoming angry at the funds each person is offered, shall we. 
                Becoming angry at the amount of money that is donated is preposterous and rude to the buyers who donate the funds. For the most part, the children each work hard with their animal, and it pays off at the sale whether they have shown a 1000 pound steer or a 10 pound bunny. Instead of bickering over numbers, exhibitors should be able to appreciate the money gathered from the auction and continue their project for the following year. The conflict and frustration with the rabbit project is discouraging rabbit exhibitors by making them feel unwelcomed to next year's show and sale, thus causing a negative experience for these kids. For the rabbit project leaders, their goal is to help kids to learn as much about their animal as possible, rather than teach them to rake in as much money as possible from buyers. Those in support of the rabbit project should attend the 2013 Randall County Livestock Show and Sale meeting Thursday at the Randall County Extension office in Canyon. The meeting will begin at 7 pm and is open to everyone.