Fabulous Fast Foods Finding a Home on Hollywood and Bell
This year has held many firsts and many lasts. From a first time experiencing a Friday night football student section, to acting in my last fall show at Randall, my senior season has been nothing if not memorable. However, if there were one thing I wish to change about my entire high school career, it would be the dreadful, snail like, construction. Now, I'm not talking about the road construction, I am simply addressing the restaurant construction. Very few things are more important to a high school student than a quick tasty meal. I was worried for the first few months of this school year because my safety net of lunches: McDonald's, was under construction. The problem slowly worked itself out and is now a much nicer, and much more sanitary experience.
Now I am anxiously waiting for the reveal of the petite, yet ominous, building currently residing right next to our beloved Waffle House. Many are hoping for a Chik-Fil-A. I have also heard of a Taco Bell and Starbucks claiming the building's identity. I for one am longing for a new Chipotle. All are great choices for the men constructing this new money maker for the Randall student population, I only hope for wisdom to be laid on their minds in choosing the new member to be accepted into Hollywood's family of chain restaurants.
Though this building is one for further in the future, we can tie ourselves over with the new, soon-to-be open, Chicken Express. Though Sonic does not have any type of food like Chicken Express' famous corn nuggets, it's safe to assume that Sonic does not feel intimidated by Express' new presence over on Bell, so long as they keep the $0.50 corn dogs coming. I look forward to a preferable style of chicken strip to fill a void I was unaware of until construction of such beauty began. Thank you Chicken Express; you belong in this wonder family of foods aiding Randall High's students.
About the Writer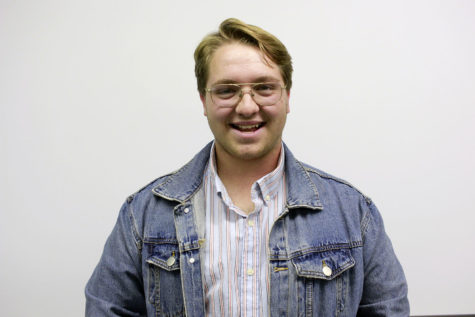 Joshua Schmitt, Staff Writer
Joshua Schmitt is a senior, and this is his first year on staff. Schmitt joined newspaper in pursuit of a career in communications and potentially mass...