Senior Kallie Marting Defends the Basketball Court
Fans watch from the bleachers as senior Kallie Marting defends the court.
Marting has played basketball since she was seven. She started off playing Kids Inc. and has continued playing to her senior year.
̈My favorite thing about basketball is the fast pace of the game and the super competitiveness that comes with it,¨ Marting said. ¨I am going to miss the crazy fun games that we have had over the years, but most of all I am going to miss the time spent with my teammates on and off the court.¨
Marting was on the freshman team her freshman year, she was on junior varsity her sophomore year and has been on varsity the past two years. She has been a point guard since she started playing basketball but she is also currently a post.
¨A teammate means someone who is willing to play for the other girls on the team not just themselves,¨ Marting said. ¨They are enthusiastic and cheer on their other teammates when they do good.¨
Marting is on the varsity softball team and she is involved in the National Honor Society. She said she maintains good grades by working on homework during the school day and at night.
¨I am a really hard worker and my grades are just as important to me as the sports are,¨ Marting said. ¨I always make sure school does not get put on the back burner, because in the end my grades are what are going to get me into and through college. I am big on making sure I am organized and have a plan. I feel this helps me maintain a healthy balance between school and sports."
Marting is interested in attending the University of Wyoming and pursuing her degree in nursing. She does not plan on playing sports in college because she wants to focus on her degree.
¨I am kind of sad this is my last year because it seems like the time has just flown by,¨ Marting said. ¨I am going to miss all of my friends and the people I get to see everyday. I am excited though to be starting a new chapter in my life. I look forward to what is to come in college like the new people I will meet, the things I will learn, and new life experiences that I will go through. I am just trying to enjoy every last moment of high school and embrace what I have right here in front of me.¨
Varsity coach, Brooke Walthall has been a head coach for 10 years. Currently, this is her seventh year as the head coach at Randall. Walthall has known Marting since Marting was in seventh grade when she was on the B team at Westover Junior High.
̈(Marting) is a great leader,̈ Walthall said. ¨She brings energy to games and practices and is a hard worker. She is always growing from adversity and trying to figure out how to make her and her teammates successful.¨
About the Writer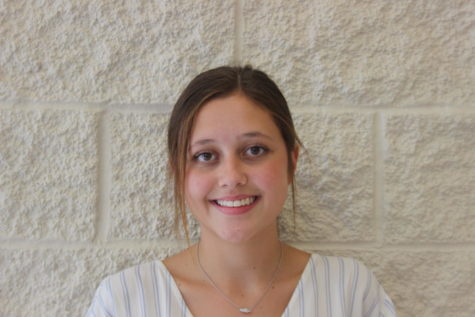 Gretta Alumbaugh, Staff Writer
Gretta Alumbaugh is a senior, and this is her first year on the newspaper staff. Alumbaugh said she wanted to join newspaper because it would look good...