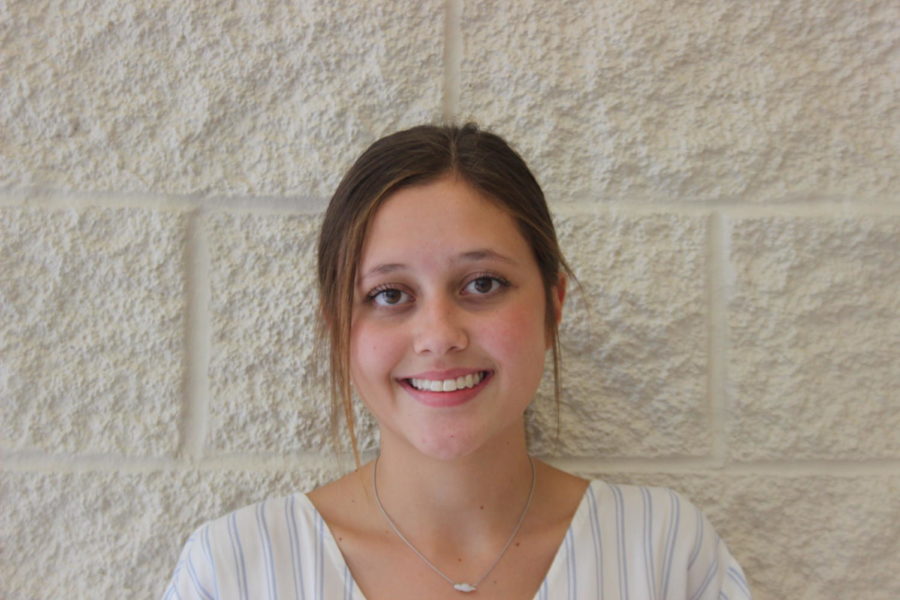 Gretta Alumbaugh is a senior, and this is her first year on the newspaper staff. Alumbaugh said she wanted to join newspaper because it would look good on her college application and she wanted become a better writer. After high school Alumbaugh said she would like to become a teacher and attend Texas Tech University.
Favorite Ice Cream flavor: Chocolate chip cookie dough.
Favorite Color: Yellow and pink
Favorite Animal: Dog
Favorite TV show: One Tree Hill
Quote: "Be your own kind of beautiful"
Gretta Alumbaugh, Staff Writer
May 14, 2019

Two Members on Girl Track Team Advance to State

(Story)

Apr 25, 2019

New Baseball Stadium Attracts Locals

(Story)

Apr 23, 2019

Granger Family Spearheads Initiative to Build Rehabilitation Center

(Story)

Apr 09, 2019

District makes plans for future building and renovations

(Story)

Mar 25, 2019

Student expresses her love for Taylor Swift

(Story)

Mar 25, 2019

Teacher, Amy Brown

(Story)

Mar 05, 2019

Spring Break Destinations

(Story)

Feb 06, 2019

Flex Time Brings Karaoke on Wednesdays

(Story)

Feb 01, 2019

Varsity Basketball Teams Play Tonight

(Story)

Feb 01, 2019

Senior Kallie Marting Defends the Basketball Court

(Story)

Jan 22, 2019

Wrestling Team to Compete This Weekend

(Story)

Jan 18, 2019

Randall Alumni Discuss What Life is Like After High School

(Story)

Jan 11, 2019

Senior Faith Martinez Spent Christmas on the Slopes

(Story)

Dec 16, 2018

Friday Night Lights Come to an End; The Football Team Remains a Family

(Story)

Dec 06, 2018

Basketball Playing in Lubbock and Hereford Tournament

(Story)

Dec 05, 2018

The Fifth Annual Christmas Tea

(Story)

Dec 03, 2018

English Teacher, Tina Bausinger

(Story)

Nov 30, 2018

Kids Inc Basketball Tournament to be This Friday and Saturday

(Story)

Nov 26, 2018

A Family That Happened Over Night

(Story)

Nov 19, 2018

Thanksgiving and Family Traditions

(Story)

Nov 13, 2018

May Be Identical But Not the Same

(Story)

Nov 05, 2018

Amarillo's Erratic Weather Affects Many

(Story/Media)

Nov 05, 2018

Students Look Forward to Thanksgiving Break

(Media)

Nov 01, 2018

Varsity Tennis Ends Fall Season, Prepares for Spring

(Story)

Oct 24, 2018

Varsity Tennis Season Comes to an End

(Story)

Oct 19, 2018

The Albuquerque International Balloon Festival is a Must See

(Story)

Oct 12, 2018

Five Seniors Attend the Mayor's State of the City Event

(Story)

Oct 09, 2018

Meet Susie Alumbaugh: The School Secretary Who Has Mastered the Art of Multitasking

(Story)

Oct 03, 2018

Amarillo Minor League Baseball Team to Start in the Spring

(Story)

Sep 25, 2018

Hurricane Florence Hits, Former CISD Student is Forced to Evacuate

(Story)

Sep 20, 2018

Cinergy Prepares For Grand Opening

(Story)

Sep 20, 2018

History of the 'Off the Wall' Shoes

(Story)

Sep 14, 2018

Bulls Season Opens, Player Finds Second Home With Corea Family

(Story)

Sep 13, 2018

Athletes Find Their Passion in Volleyball

(Story)

Aug 30, 2018

Corbin Campbell, Sophomore

(Story)

Aug 26, 2018

Sign ups to participate in homecoming parade going on now

(Story)