Put Your Best Face On: Raiders Prepare for Halloween
Spooky Season is here; it's time for guys and ghouls to dress up, get together, and eat some candy.
Students were encouraged to wear their costumes to school on Halloween, but they still had to be in dress code. This meant that masks or anything covering the student's face were prohibited. Many students were excited to wear their costumes to school, but others decided to leave their costume at home.
"I am dressing up for Halloween this year but I will not be coming to school in my costume," senior Mason Ackerman said, "
While Ackerman has already made his decision, senior Halie Butler hasn't decided if she will be wearing her costume on Wednesday.
"I'm going to be an angel for Halloween," Butler said. "I might be coming to school in my costume, but the wingspan is pretty wide, so I don't know if I will be able to get through all of the doors."
Students aren't the only ones dressing up this year, and History teacher Rachel Huseman is just as excited for the holiday.
"I'm going to be a character from Wild Kratts," Huseman said. "I have a five-year-old who says that's what we're doing."
Huseman is especially enthused to dress up this year because she didn't last year, but Butler was eager to brag about her previous costume.
"I was a vampire," Butler said. "I had these prosthetic fangs. They were a hoot."
Butler, feeling very passionate about the topic, was prepared to express her discontent with the lack of people who dress up.
"Guys never dress up," Butler said. "I never see Freddy Krueger costumes anymore."
Huseman couldn't think of any other out-of-date costumes, but she had some strong opinions about overdone costumes.
"I think sexy-anything is overdone," Huseman said. "Be more creative than that."
About the Writer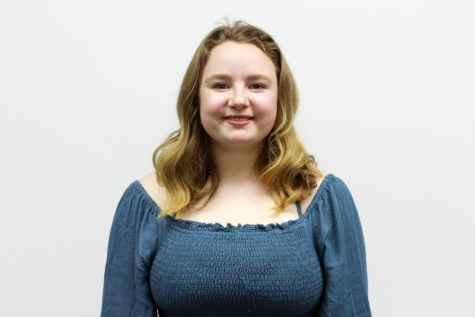 Mattie Freeze, Co-Editor
Mattie Freeze is a senior, and this is her second year on the newspaper staff. Freeze joined because she would like to go into broadcasting.

Other Interests:...