Amarillo's Erratic Weather Affects Many
The weather in the Panhandle has been a roller coaster. From tornados, earthquakes, rain, snow and high to low temperatures, the weather has left many people affected.
In September and October there has been a variety of weather. On Oct. 7 a tornado warning was issued and people in Amarillo were advised to take cover. A tornado did not make landfall but because the tornado was unexpected, senior Kristiana Huff did not take cover.
¨I was at work when we had a tornado warning,¨ Huff said. ¨All of the customers coming through my line were asking me if I knew we were under a tornado warning, and I had no idea until people started to let me know.¨
The tornado warning that took effect shocked the public because tornado's are known to be in the Springtime due to the weather change. Tornado's have been reported in Amarillo many times before and most people have witnessed at least one growing up in the Panhandle.  
¨The scariest weather I've experienced in Amarillo was probably a few years ago when the news anchors were telling everyone to take cover because of the tornado coming,¨ Huff said. ¨My family and I had to protect ourselves with a mattress and pillows in my parents' closet. I was so young and barely knew what was going on, but I remember every detail.¨
A total of 7.81 inches of rain was calculated in the month of September and most days have been cloudy. Last month, Amarillo had 3.64 inches of rain, which was a 30 year record high. In 2018, Amarillo had the longest drought in history since the 1950´s without getting rain in over 100 days.
¨I love all of the rain we've been getting because Amarillo is so dry,¨ Huff said. ¨We need as much as we can get because no matter how much rain we get now will never make up for the amount of rain we've been missing out on all of these years.¨
Rain hasn't been the only type of precipitation. In September, flurries were seen throughout a whole day but the snow did not stick due to the higher temperature.
¨I actually think we're going to have a pretty cold winter,¨ Huff said. ¨I think it's going to make up for last year where it was 80 degrees in December.¨
A 4.0 earthquake was reported on Oct. 20 and two small earthquakes earlier that week. Senior Bonnie Fischer experienced the earthquake while sleeping that morning. 
¨I actually thought one of my little siblings had slammed a door really hard,¨ Fischer said. ¨I couldn't think of another explanation. I got up, prepared to yell at whoever had created the disturbance, only to find that everyone was just as confused as I was.¨
The earthquake hit at approximately 8:04 a.m. and was a depth of three miles. Fischer said that she has never witnessed a earthquake but she is happy to say she has now.
¨Oddly enough, I was enthusiastic to experience the synthesis of multiple seasons at once,¨ Fischer said. ¨The earthquake was especially interesting to experience. I didn't think I'd be able to say that I've experienced an earthquake, given the rarity of ones we can feel in the Panhandle.¨
About the Contributor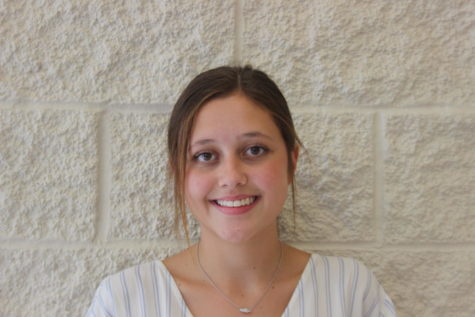 Gretta Alumbaugh, Staff Writer
Gretta Alumbaugh is a senior, and this is her first year on the newspaper staff. Alumbaugh said she wanted to join newspaper because it would look good...