Senior Faith Martinez Spent Christmas on the Slopes
Most families spend Christmas at home, while senior Faith Martinez spends Christmas on the slopes. She drove more than seven hours to stay in Breckenridge, Colorado during her winter break.
This was the second time Martinez and her family spent Christmas in Breckenridge. Martinez's parents, brother and sister-in-law enjoy skiing during the winter time and often go hiking during the summer time.
¨My favorite thing about Christmas break is visiting with my family and taking a break from school,¨ Martinez said. ¨I would love to spend future winter brakes in Colorado.¨
Martinez spent five days in Colorado and spent all of her Christmas day skiing. Her family got to celebrate Christmas on the Dec. 21, the day before they left for their trip.
¨I look forward to seeing the mountains and the colorful landscape of Colorado,¨ Martinez said. ¨I also enjoy meeting all the fun people on the slopes.¨
Martinez's most memorable moment in Colorado is when she got to share the slopes with professional snowboarder, Danny Davis. Davis was snowboarding on Christmas day, the same time as Martinez was skiing.
¨It was cool knowing that I was skiing on the same mountain as Danny Davis,¨ Martinez said. ¨He's one of my favorite snowboarders and one day I hope to be as good as he is.¨
About the Writer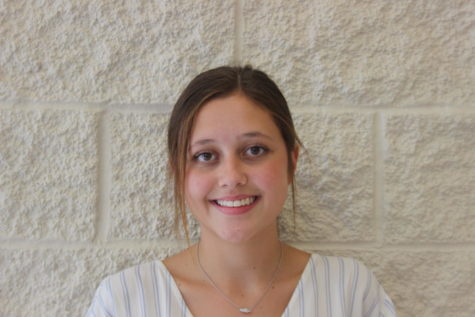 Gretta Alumbaugh, Staff Writer
Gretta Alumbaugh is a senior, and this is her first year on the newspaper staff. Alumbaugh said she wanted to join newspaper because it would look good...