Student expresses her love for Taylor Swift
Chicago, Denver, Oklahoma, and Arlington are the places senior Mikah Merrill has traveled to attend a Taylor Swift concert.
Merrill's interest in Taylor Swift started when she was young. She first listened to "Love Story" from Swift's Fearless Album in 2008 and Merrill has loved Taylor Swift ever since.
¨Taylor Swift just makes me happy,¨ Merrill said. ¨Like whatever she is doing whether it's her music, her cats, or just being her goofy self, she will immediately brighten my day.¨
Merrill's first concert was the Speak Now tour in 2011 and then three years later she attended the 1989 tour in 2015. This past summer she went to the Reputation tour in Denver and then her most recent concert was in Arlington.
¨I do plan on attending many more concerts,¨ Merrill said. ¨Her concerts are truly amazing, they are truly one of a kind. Her concert will take you back to her oldies and showcase her awesome new ones.¨
When Taylor Swift first became popular she was a country singer and then later shifted in to pop music. Merrill said she loves the old and new version of Taylor Swift.
¨I love the old Taylor, she was this sweet innocent singer and the new Taylor is strong and independent,¨ Merrill said. ¨Her songs may have a different sound, but they still have the same beautiful lyrics. I don't really see them as different.¨
Taylor Swift has over 90 released songs, but Merrill can't find one that is her favorite. She said some of her favorites include: All Too Well, Enchanted, You Belong With Me, Dress, and I Did Something Bad.
¨Asking a Swiftie what her favorite song is almost impossible,¨ Merrill said. ¨I choose the songs I listen to based on my mood and how I am feeling at that moment.¨
Merrill usually attends concerts with a family member or a friend. She said her favorite memory at a Taylor Swift concert would be at the reputation tour with her dad.
̈At the Reputation Tour in Denver, It was my dad, my best friend, and I,¨ Merrill said. ¨There is nothing like attending a Taylor concert and that includes the way you dress. Swifties dress up with lyrics, music videos, or photo shoots. This year my idea was to dress up as the "old" Taylor, the "dead" Taylor, and the "new" Taylor. My dad was the dead Taylor and he dressed like the zombie from the Look What You Made Me Do music video. He did zombie makeup, the blonde wig and dress.¨
About the Writer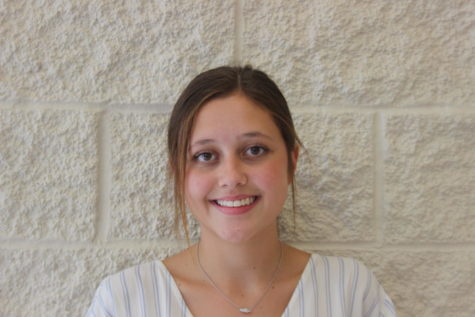 Gretta Alumbaugh, Staff Writer
Gretta Alumbaugh is a senior, and this is her first year on the newspaper staff. Alumbaugh said she wanted to join newspaper because it would look good...