Granger Family Spearheads Initiative to Build Rehabilitation Center
In March 2018, students Kathryn Granger and Sarah Tucker were involved in a car crash that led to results that the Randall community will never forget.
16-year-old Tucker did not survive the accident and Granger was paralyzed from her chest down. Granger spent 66 days in inpatient rehab in Dallas, and currently makes weekly trips to Fort Worth for outpatient rehab at a Neurological Recovery Center, a clinic that offers the latest robotic equipment, adaptive yoga and aquatic therapy. The long, frequent trips have been tough on Granger and her family. However, through her experience, the Granger family has found a new passion- the Sister-Bear Fund. Sister-Bear is an organization who's mission is to create a Neurological Rehabilitation and Adaptive Fitness center to serve all in the Tri-State area. 
Since its launch last month, the Sister-Bear organization has already organized fundraising campaigns where proceeds would go toward the new center. They have a donation page through Amarillo Area Foundation, and have partnered with Al's Formal Wear to receive a portion of tux rentals. Now, they are gearing up for a fundraising event- the Sister-Bear Shoot.
The Sister Bear Shoot, which will be May 10 at River Breaks Ranch, is a clay shooting competition which will also include happy hour, horse races, dinner, a live auction and evening entertainment. The event starts at 1 p.m. for check-in and concludes after the 9 p.m. entertainment. Individual shooters pay $275 and receive two tickets to the party, or a team of four shooters pay $1000 and receive eight tickets to the party. For those who wish to participate in the event but have no interest in shooting can pay $50 to attend the evening events which begin at 5 p.m. Organizers are also looking for sponsors; sponsorship opportunities range from $500- $15,000.    
¨We are not worried too much about raising all the funds with this one event, but it is a start,̈ Granger said. ¨We will also apply for grants to help with funding.¨
With continued fundraising, Granger hopes a local rehab facility can someday become a reality. The center would help people suffering from ailments such as spinal cord injuries, traumatic brain injuries and other neuropathic conditions.
¨The new facility would be a place I could go multiple times a week to keep my joints and muscles moving,¨ Granger said. 
Until then, Granger will focus on Sister-Bear initiatives and her personal health. 
"I am hopeful someone will come out with a device that will help me walk again someday," Granger said. "I know God has a bigger plan for my life; otherwise, I wouldn't still be here today. My best friend didn't survive the accident, but I know I am here to serve a greater purpose in the lives of others, and Sarah is my inspiration for continuing to persevere through challenges like I've had this past year."
About the Contributor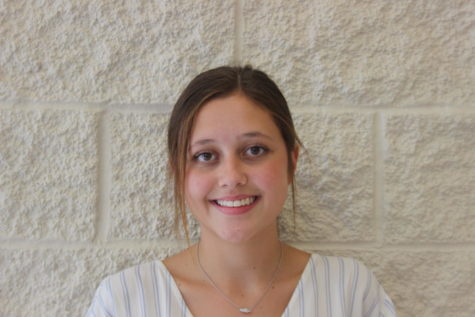 Gretta Alumbaugh, Staff Writer
Gretta Alumbaugh is a senior, and this is her first year on the newspaper staff. Alumbaugh said she wanted to join newspaper because it would look good...