From pigs to pandemic: Mutated swine flu sweeps the nation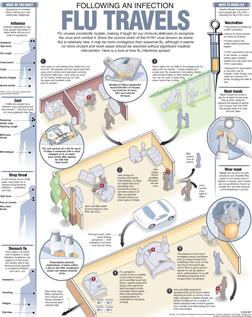 What was once receiving little news coverage and disregarded is now throwing the world into panic.  Countless hospitalizations and several deaths caused by the H1N1 virus have triggered a world-wide struggle to find a cure and take preventative measures. 
In the state of Texas, there are six school districts closed and three others with one or more campuses closed due to the number of student absences.  According to Lesli Laughter, CISD Assistant Superintendent for Administration, the Canyon Independent School District is currently experiencing a few cases of H1N1 or illnesses with flu-like symptoms among students. 
"Our school district is relatively healthy and we're trying very hard to stay that way," Laughter said.  "We receive weekly updates on H1N1 and work with other state agencies to face the virus.  We're also asking our teachers to encourage students to use good hygiene. "
The previous Swine flu virus didn't infect humans very often, but the recent swine pandemic has changed into something that's a threat.  In past cases of swine flu, contact with infected pigs was the cause of the sickness.  In cases of the current swine flu, now known as H1N1, humans with the disease haven't had any contact with pigs, and it is now spreading from person to person. 
What it is:  The H1N1 virus is a virus that originated from the swine flu, but has changed into a virus that infects and spreads through humans.
Symptoms:  Symptoms include fever, cough sore throat, runny nose, body aches, headache, chills and fatigue.  Some other symptoms that have been reported are diarrhea and vomiting.  Some of these symptoms are also regular flu symptoms.
How to prevent H1N1:  A new H1N1 vaccine is an option when it's available.  Cleanliness is always helpful.  Wash hands regularly, and carry hand sanitizer when possible.  Instead of sneezing into a hand, sneeze into an elbow so germs don't spread as easily.  Do not eat or drink after anybody, and be wary when touching door handles; sometimes, using a sleeve instead of a hand is the best option.