Students Honor Mr. Sullivan for Day of the Dead
Hang on for a minute...we're trying to find some more stories you might like.
After two week of preparing, photos, decorations, and favorite foods, students involved in Spanish 4 created a special alter for the Day of the Dead. WT hosted a Day of the Dead event in which people had the option to put up an alter for a deceased loved one. This year, students decided to create an alter in honor of Joe Sullivan. Mr. Sullivan was a librarian, a teacher, and a friend to all students, so naturally students wanted to do this for him and his family.
"The altar makes me happy about the good moments I remember with Mr Sullivan," junior Ben Stormer said. "I also feel satisfied because I feel our altar did a decent job of capturing some of the best moments of Mr. Sullivan's life, although definitely not even close to all of them."
Spanish teachers assigned each student a different part of the alter, such as food and gathering photographs. There was also a group for gathering the papel picado, which is a colored, decorative paper that is in the front of the alter. Many kids got emotional while choosing which pictures to use for the alter. While the alter took about two weeks to build, it only took an hour to put together. Most of the items on the alter were sentimental and not bought.
"Students chose to honor Mr. Sullivan, he was the only one considered when I told the students I was considering participating," Spanish teacher Dahlia Lopez said. "It was unanimous and actually brought tears to my eyes when they nominated him as a candidate."
The alter is traditionally used to honor loved ones or deceased people that need to be remembered. Each student had many different stories about Mr. Sullivan. Lopez said the impact he made deserves to be remembered.
"Every student had some sweet story of what Mr Sullivan meant to them," Lopez said, "All of them were very emotional when they saw the alter all put together."
About the Writer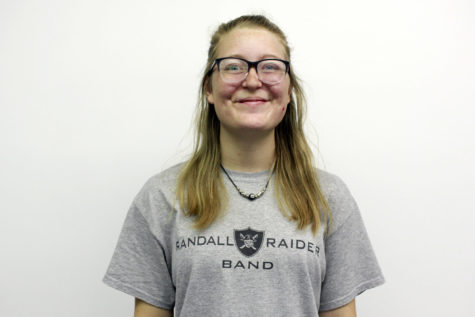 Maci Weathers, Staff Writer
Maci Weathers is a senior, and this is her third year on the newspaper staff.  Weathers joined newspaper because she was interested in the idea of Journalism. ...