Blast from the Past: "A Night with Janis Joplin" captivates audience
When my parents told me we were going to watch a concert/show about Janis Joplin, I was a little apprehensive because I knew very little about her and did not know if I would be able to enjoy the show considering it wasn't really my taste in music. I figured, even if I didn't like the show, it would be an excuse to get out of the house on what would typically be an uneventful Sunday night.
When I arrived at the Civic Center, I was pleasantly surprised and intrigued by what I saw. Multicolored concert lights illuminated the eager faces of an older audience decked out in 60s and 70s attire such as long vests, colorful hair accessories, and faded bell-bottoms. Before the show began, songs from artists such as Pink Floyd, Led Zepplin, and The Rolling Stones blasted from the speakers at the front of the stage. I felt like I was at Woodstock.
The show began with an impressive performance by the young Janis Joplin impersonator followed by a glimpse into her early life in Texas. Born in the small town of Port Arthur, Joplin never felt like she fit in and set her sights on college in the vibrant, lively city of Austin. However, when she arrived, she discovered that music, not college, was her calling. So, in 1966, Joplin moved to San Francisco and joined the band Big Brother and the Holding Company, launching her career as a blues singer. Throughout the show, we see Joplin rise to fame as she gains recognition for her unique, husky voice and her rebellious and spirited persona. We ride alongside Joplin through her successes and her hardships such as her ongoing struggle with drug addiction.
The show included performances from the famous singer as well as some of Joplin's biggest influences such as Odetta, Bessie Smith, Porgy and Bess, Chantel, and Aretha Franklin. Each performance seemed to build in intensity, and the audience felt it too, singing along to hits such as "Piece of my Heart," "Cry Baby," "Me and Bobby Mcgee," and "Summertime."
"A Night with Janis Joplin" surpassed my expectations with its electrifying performances and authentic characters. By the end of the show, I was buzzing with the energy of the music and singing along with the crowd to "Mercedes Benz," which just happened to be the only Janis Joplin song I knew.
About the Writer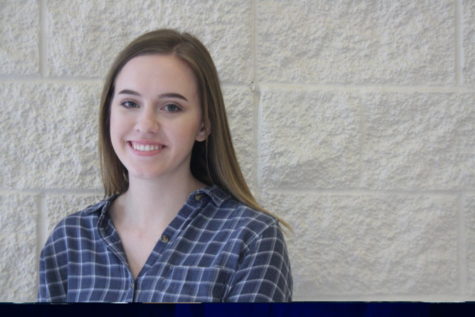 Abigail Hurtt, Editor-In-Chief
I am Abigail, I am a senior, and am editor of the newspaper for 2017-2018. I joined newspaper because I love writing and like to keep up with what is going...