'A Family On and Off the Stage' Productions' Fall Show Closes With a Bang
Productions' Fall Show, "You Can't Take It With You," opened on Nov. 14.
Cast and crew began working in August to prepare for the show, going to rehearsal every Monday and Thursday from 7-10 P.M. and even some Saturdays from 1-5 P.M. The play consisted of three acts and lasted for about an hour and a half. The actors had to memorize 80 pages of lines and blocking. The show focused on a family, the Sycamores, living in the suburbs outside of New York City in 1938.
"It's unique to be able to bring a character into real life and (portray) how they could have acted and felt during their time period," junior Zapryce Johnson said. "It was fun being able to see how different people talked and how they dressed back then."
The Sycamore home invited an interesting mix of characters, including a mother, Penny played by senior Mattie Freeze, a father, Paul played by junior Derek Lyons, two daughters, Essie played by senior Aspen Malone and Alice played by junior Zapryce Johnson, Essie's husband, Ed played by senior Joshua Schmitt, and Grandpa played by senior Kempson White.
"The family was so complicated," White said. "There was always so much going on in the house that sometimes it was hard to focus on what was supposed to be the center of attention."
The show was composed of one main plot and multiple subplots. The main story being that the youngest daughter, Alice played by Johnson, was engaged to a man, Tony played by senior Christopher Mahoney, who came from a much different background than her.
"Even though the show was a comedy, there were times when there was a lot of tension on stage," Johnson said. "I went from a bubbly character to someone who was very emotional really quickly."
"
I loved making new connections and creating memories. We became a family on and off the stage."
— Zypryce Johnson, junior
The fast-paced show provided time for numerous characters to be introduced adding more layers and confusion to the show. It seemed with every passing second the Sycamore family grew larger.
"I had the opportunity to work with other people and build a stronger bond with everyone," Johnson said. "I loved making new connections and creating memories. We became a family on and off the stage."
About the Contributor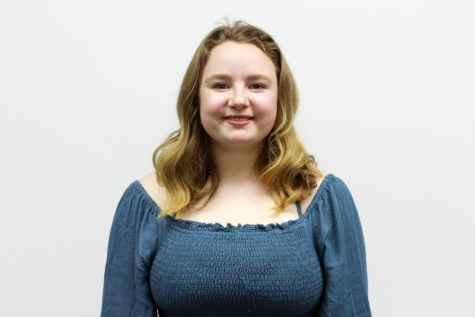 Mattie Freeze, Co-Editor
Mattie Freeze is a senior, and this is her second year on the newspaper staff. Freeze joined because she would like to go into broadcasting.

Other Interests:...