RHS Hosting All-Region Band to be Friday and Saturday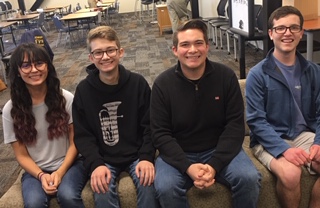 All band students who qualified for the All-Region Band will be having their clinic and concert this Friday and Saturday at Randall.
The clinic will be Friday starting at 2 p.m. until 9 p.m. in the west auditorium and west band hall. Performance's from both bands will be Saturday night held in the west auditorium with Concert Band starting at 7 p.m. and Symphonic Band at 7:30 p.m.
"All Region is a process that by its very nature makes students better individual musicians," band director Ginger Denney said. "When each students skill set within our ensemble is raised it makes our entire band better."
Each etude is college level and selected by college professors who play that instrument. Students received and began working on their etudes until the audition date.
"The exercises are chosen to be at a college level in order to push high school students out of their musical comfort zone and improve their individual skill set," Denney said. "It also allows us to compete with other schools and students in our Region."
Students are highly encouraged to make time to work on their music outside of school on top of marching rehearsal and their other school work.
"We hold a weekly sectional outside of our normal marching band rehearsal times," Denney said. "All-Region band students are expected to learn their marching music, marching spots, stand tunes, and All-Region music."
The band had 59 students who qualified for All-Region, and 37 of those students qualified for Area which was held in Odessa on Jan. 12. Out of those 37 students, 4 students placed in the All-State Band after their area audition including seniors Sophia Britto and Chase Frow, and juniors Kyle Boschen and Noah Reneau.
"The audition process creates a pressure/stress situation that very closely resembles stressful life situations that they will face in adult life," Denney said. "We want our students to be prepared for more than just music when they leave our band program."