Movies (and TV Shows) to Make you Jump
While there are many ways to be festive this October, such as decorating the front porch, dressing up in a fabulous costume, or checking out a haunted house, it can be just as fun to enjoy the spooky season from the comfort of your couch or bed. All you need is a few great recommendations and maybe a hot mug of apple cider. Here is a list of the top 10 best (in my opinion) Halloween movies and TV shows that are sure to make you jump.
The Nightmare Before Christmas- I know what you may be thinking. How is this a halloween movie? It has

Christmas

in the title. While this is true, this creepy animated Tim Burton flick is sure to get you in the Halloween spirit. Chaos ensues in Christmas town when Pumpkin King Jack Skellington decides to take over Christmas in the most un-jolly spirit. This unique story is fun to watch because you get a little bit of both Halloween and Christmas wrapped up in one movie.

Coraline- Another animated option, Coraline leaves viewers with shivers down their spines. A curious girl named Coraline becomes bored with her world and discovers an alternate one accessible through a secret passage in her house. In this alternate world where people have buttons for eyes, there lurks sinister secrets and danger.

Harry Potter- While Harry Potter would not technically be classified as a Halloween series, this kid's classic series is full of magic and adventures sure to captivate an audience of any age. Follow Harry, Ron, and Hermione as they battle trolls, play chess, take tests, and go on countless magical adventures.

Halloweentown- This movie makes me nostalgic because I remember watching this Disney channel classic religiously every October. 13 year old Marnie is expecting another Halloween to pass without trick or treating or costume wearing, as her family has strict rules against the holiday. However, that all changes when Marnie is visited by her grandmother who reveals that Marnie is a witch! Marnie is transported to the magical world of Halloweentown, where she discovers the magical and impossible really do exist.

Stranger Things- An instant success after it's release in 2016, the Netflix original Stranger Things is coming back this October. In season one, we were introduced to friends Mike, Dustin, and Lucas as they went on a spooky and suspenseful journey to find their missing friend Will. Along the way, they encountered unexplainable mysteries, supernatural forces, and a strange girl with an affinity for waffles. Season two is expected to be just as captivating and just as spooky- just in time for Halloween.

Carrie- A high school prom takes a turn for the worst in this movie based on the chilling novel by horror writer Stephen King. Carrie begins to notice something strange is happening as her cruel classmates and devout mother drive her to the point of breaking.

Poltergeist- An unsuspecting family begins experiencing supernatural events via television set. After the malicious forces take the youngest daughter captive, the family must fight to get her back.

American Horror Story- Each season of this creepy and chilling show has a unique theme, and one does not relate to the other. The same actors play different characters in each series. American Horror Story is not for everyone as it can be pretty intense and very disturbing. The two seasons I recommend are season one, "Murder House" and season three, "Coven." The first season follows the Harmon family who move into a house haunted by demonic presences and the third season follows a group of young witches living together in New Orleans.

The Shining- Another Stephen King adaptation, The Shining follows Jack Torrance, his wife, and son Danny. Jack accepts a job as the winter caretaker at the empty Overlook Hotel and hopes it will provide him with a calm and secluded environment to work on his writing. As the winter progresses, Danny begins having disturbing episodes and visions and Jack slowly becomes more and more aggravated with a severe case of cabin fever. This terrifying tale of a family in isolation is sure to send shivers down your spine.

Insidious- A typical family moves into their new house to find that it was far from what they were expecting. The parents are forced to fight off evil spirits after their son becomes possessed and comatose. This movie is full of suspense up until the very last second.
    **Bonus- The Phantom of the Opera- While this movie is not for everyone, it holds a special place in my heart as my family has a tradition of watching it every October. The movie is set in a 19th century opera house in Paris and follows the young and promising talent, Christine Daae. When Christine gets passed over for roles at the opera, the mask-wearing "phantom" who lurks in the opera's shadows becomes extremely displeased and makes it well known to the staff of the opera house. If you like music, elaborate sets and costumes, romance, and a dark twist, then this movie is for you.
About the Writer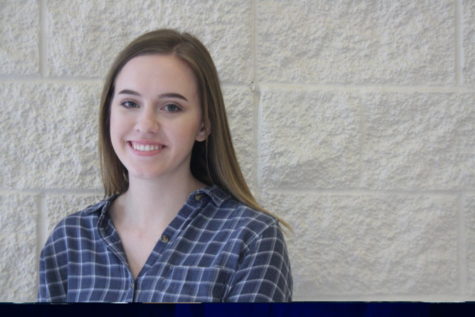 Abigail Hurtt, Editor-In-Chief
I am Abigail, I am a senior, and am editor of the newspaper for 2017-2018. I joined newspaper because I love writing and like to keep up with what is going...