Little Shop of Horrors: A 'Classic Tale of Greed'
Little Shop Of Horrors is an hour and 46 minutes long horror-comedy musical (one of my personal favorite genres) directed by Frank Oz (The Stepford Wives, The Dark Crystal), based on the stage musical of the same name.

Loading ...
The film follows the story of a florist, Seymour Krelborn (Rick Moranis) who has a hobby of studying strange plants and a massive crush on his co-worker Audrey (Ellen Greene). During a total eclipse of the sun, he comes across a strange plant that wasn't on display before. He presents it to his boss Mr. Mushnik (Vincent Gardenia), who was about to cancel the flower shop altogether. Mushnik is hesitant at first but ultimately decides to let Seymour place it in the window of the shop, attracting customers. Mushnik requests that they all go out for dinner as a celebration but with Audrey on a date and the plant acting up, Seymour is stuck with the plant (named Audrey II). He tries to take care of Audrey II as best he can but finds out that what it feeds on is not just plant food, it feeds on blood, and the more blood he feeds Audrey II the bigger it gets. Where will Seymour get the blood? Will he feed Mr. Mushnik to the plant? Or will he feed Audrey's abusive boyfriend Orin (Steve Martin) to the plant? What will he do to keep business booming?
The special effects in this movie are outdated, but it honestly makes the movie funnier. The musical scenes are done very well and filled with a lot of emotion, especially the first song. In terms of editing, John Jympson did a pretty good job. The movie does a spectacular job of reintroducing the lesson "you don't always get what you signed up for." I really enjoyed how the actors brought out so much emotion to such a common concept with a villain that could be seen as ridiculous. It really shows with Seymour, who gets an amazing character arc. Although the music in this film is what truly stands out, with two of the most popular songs being: "Feed me" and "Dentist!"
The film is rated PG-13 for mild gore, language, innuendos, s & m references, and physical abuse. The movie came out on the 19th of December, 1986. The soundtrack was composed by Alan Menken (The Little Mermaid, Aladdin) and Howard Ashman. Movies that are similar: Killer Klowns from Outer Space, Sweeney Todd: The Demon Barber of Fleet Street, Beetlejuice, Rocky Horror Picture Show, and Anna and The Apocalypse.
If you are tired of the glitter and jingle of Christmas shows and are looking for something a little darker, this classic horror-comedy is worth your time.
About the Writer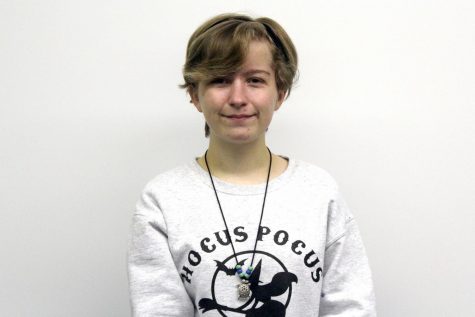 Felicity Bentley, Junior Staff Writer
Felicity Bentley is a junior, this is her first year in Journalism. Bentley joined to work on her writing skills and write more stories. She also has an...