Met Gala 2021: What we expected and what we got
The most snobbish of all soirées, where not even millions are worth anything to you if your presence is not approved by Anna Wintour, over the years has grown into a kind of Red Carpet where the biggest stars race in elaborate high fashion with more or less success.  So it was last week, when the Met Gala returned to the social calendars of the rich and famous after one-year pandemic break.
Don't get me wrong, I absolutely love the judging all the rich celebrities in clothes worth millions of dollars while I sit in my Walmart pajamas – but this time there were so many fashion fails on the Metropolitan steps that I forgot for a moment what was I looking at and what was the theme for the night. 
This Met Gala was focused on the history of American fashion. The theme had so much potential and I was really expecting all those glamorous vintage suits, dresses, referring to important events that shaped American fashion today. I was expecting to see different eras and camp and unique spin on them. Even though some people did reference fashion icons we still love and admire, like Kendall Jenner whose dress was inspired by Audrey Hepburn's dress in My Fair Lady, I didn't really like the fact that this year designers were mostly focused only on Old Hollywood. 
The thing that I am almost certain will happen, but somehow I still get disappointed every year, is definitely men in black suits. No matter the theme, they just don't stop with basic black suits. These types of looks on the Met Gala always get criticized, but somehow, every single year, the majority of men decide to wear exactly that with so much confidence thinking they slayed it! Because of that, I am saying FORBID BLACK SUITS ON THE MET! 
Not to be all negative, there were some absolutely mesmerizing looks! I loved Olivia Rodrigo's funky bodysuit which was something fresh because it represented a different era than most looks. I loved Iman's Dolce & Gabbana golden age masterpiece. Barbie Ferreira looked amazing as always, just like Lupita Nyong'o and Maisie Williams. There were some looks that I felt weren't really on theme but I liked them, like Chloe and Halle who usually never miss, Lorde or Lil Nas X who gave us a whole performance like Lady Gaga did on the last Met.  Weirdly, I really liked Pete Davidson's outfit. Don't judge me, but, even though a lot of people didn't like their outfits, I felt like Rihanna, Kim Kardashian and Ciara were actually the most "on theme" people. My favorite was definitely Yara Shahidi who looked absolutely gorgeous in her Dior dress honoring Josephine Baker.
We can all agree we missed Zendaya, Blake Lively and Lady Gaga, who have really become Met Gala icons over the years and that's why this Met felt a little off. I can proudly say that I really enjoyed all the memes on Twitter and that I can't wait for the new meme material aka the next Met.
Leave a Comment
About the Contributor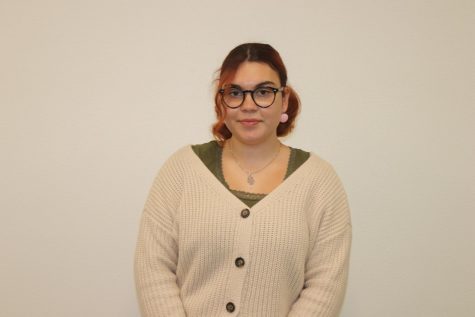 Ema Divanefendic, Junior Staff Writer, Podcaster


Ema Divanefendic is a junior, she is an exchange student from Europe and this is her first year in broadcasting and third year in journalism. Ema joined...