Band prepares for area competition with experience from High Plains Marching Classic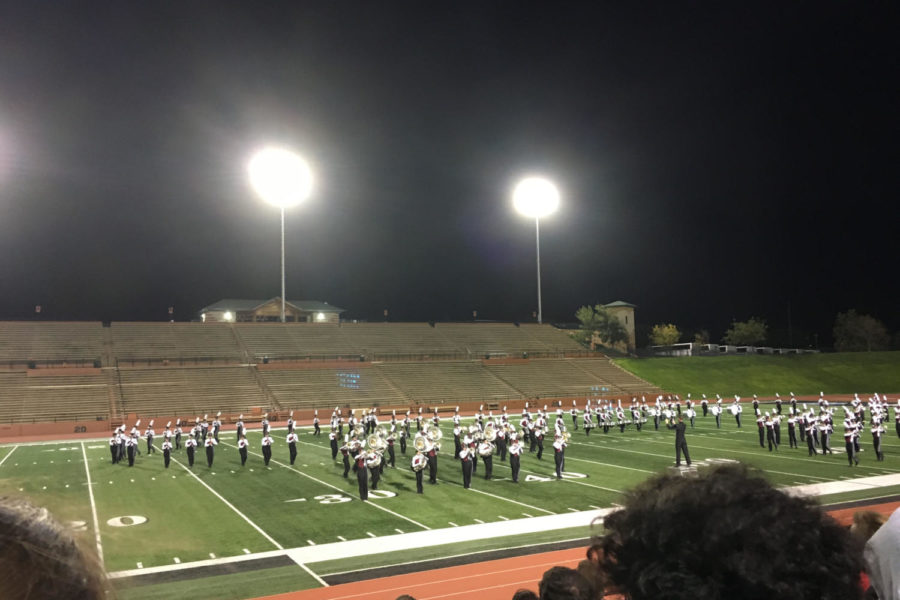 Casey Stavenhagen, Staff Writer
October 20, 2017
One day. 22 bands. One stadium. Last Saturday, 22 Texas Panhandle high school bands performed in front of judges at Dick Bivins stadium for the High Plains Marching Competition throughout the day until the judges have picked their top eight bands, and given the awards for "Best Color Guard", "Best Drum Majors", "Best Drumline", and "Best Overall Small School Band." Then, the advancing eight bands competed yet again to be ranked. Last year, Randall Rhythm placed 8th out of the competing bands; this year, they placed 4th out of the 22 competing bands.
The High Plains Marching Competition takes place annually as a pre-UIL event, with bands from all over the Texas Panhandle competing each year. Randall Rhythm took home the award for ¨Best Drumline¨, won 3rd place for ¨Best Drum Majors¨, and placed 5th for ¨Best Color Guard¨ this year. According to senior and drum major Kenzie Srader, not all of the band members feel the same way about whether or not they are pleased with these results, although she said she sees them as a great improvement from last year.
¨The results were a little disheartening, since we didn't get top 3,¨ senior and alto saxophone player Aaron Lee said. ¨I feel we got what I expected, but I think our band is prepared enough to advance onto the area contest next week.¨
This Saturday, the band will be having one more performance at Dick Bivins, that is open to spectators for a $5 entry fee, to decide if they will advance onto area. The band is prepared for the next competition after some refinements and new ¨flashy¨ visuals added, according to Srader. The bands have the ability to learn from mistakes made during this performance to better prepare for actual UIL competitions.
¨The most valuable thing from this competition was the experience," Lee said. ¨ We needed this competition to be able to fix areas of our show before UIL on Oct. 21. We watched other bands compete, and that was a treat. It was very beneficial to see them perform and see how they use props and dances.¨
The bands often spend time before and after their performance spectating others to learn techniques that can be added throughout their show for improvement. Whether it be through fixing their own mistakes or refining the show by addition of new techniques, the band works together to achieve a similar goal. According to Lee, the process of competing makes the band members closer as a band family.
¨This is the competition that we (the band) make the most memories at,¨ Srader said. ¨It gives a great way to get to know the band. We get to spend all day together and our parents cook food for us every year. We eat and laugh together.¨
The band members grow closer to each other as they compete and perform together throughout the year, which allows them to help others perform their individual tasks. Each band member has their own role to play, with some holding more responsibility than others, such as the job of drum major that Srader, senior Emily Boschen, and senior Mallory McKinney. According to Srader, her role is to make sure that the band members know their roles and that they are looking and sounding good, and during performances, her job is conducting the members.
¨This competition taught us that the hard thing about fine arts is that it is all based off of someone's opinion.¨ Srader said. ¨If one judge does not like one thing we did, then that one thing can make it and break it for us.¨