The Last Fight: Girls Basketball Season is Officially Over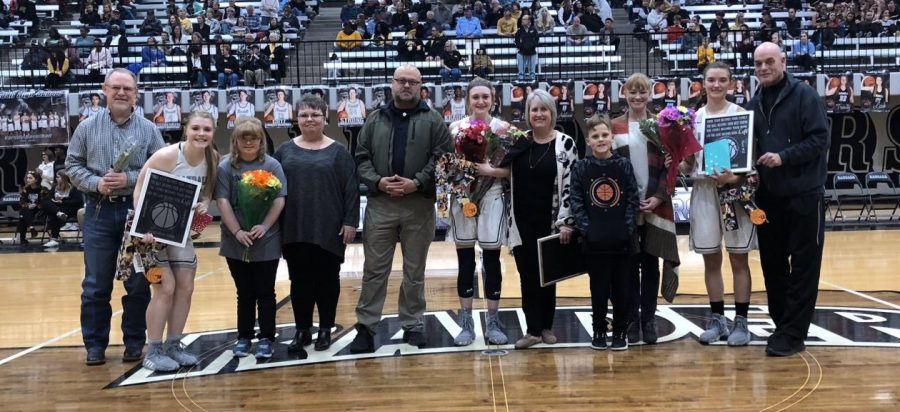 As the basketball season came to an end, seniors, such as Claire Headings and Macayla Warren, began the first of many goodbyes that will occur between now and May 22. 
The team designated the last home game of the season as "senior night," where they recognized seniors, along with their parents.
"Senior night was surreal," Headings said. "It was rewarding but also very emotional, and I will always remember walking off my home court for the very last time. It's a hard feeling to describe; it is almost like when someone passes away, you're so sad but still in shock that your life just changed."
"
Senior night was surreal. It was rewarding but also very emotional, and I will always remember walking off my home court for the very last time."
— Claire Headings
The seniors of the team have all gotten the title of captain, and as a captain, they have had to put in more effort on and off the courts for their team. As a captain, they have learned leadership, respect, grit, passion, and they have grown to know more they ever had before.
¨Basketball has given me more memories and opportunities than anything in my life. It has helped me develop into the person I am today,¨ Headings said. ¨I have always been a vocal leader but this year, my coach pushed me beyond my limits and highered her expectations for me which has grown my leadership skills.¨
The 19-20 basketball team said goodbye to their beloved seniors Feb. 7 on their home court after playing Amarillo High, then the Varsity team officially wrapped up their season at their last district game on Feb 10. The team had an 8-8 district record and an overall 15-15 record.
¨When we didn't make playoffs I felt like we hadn't succeeded this season but then I started to look back at all our little success stories from throughout the season and realized that wasn't the case," Warren said. ¨Although we didn't achieve our biggest goal, we did achieve our smaller ones like beating Lubbock Cooper, Tascosa, and we played our very best at the end of the season.¨
"
My team is my family, and I'm sad I'm leaving a program I've been apart of for forever, but I am ready to start a new chapter in my life."
— Macayla Warren
While juggling the weight of the team, these seniors have been finding ways to expand themselves for future basketball plans in college. With all of the work that they have put in their years of Randall, they have already been offered a few opportunities for after high school.
¨I play basketball to be a part of something bigger than myself," Warren said. "While I was playing basketball I wasn't playing for myself but for the other eight other girls on my team. My team is my family, and I'm sad I'm leaving a program I've been a part of for forever, but I am ready to start a new chapter in my life.¨