Jason Caldwell joins Randall Hall of Fame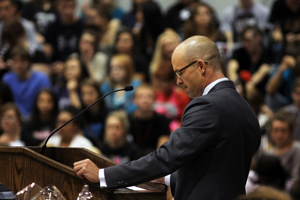 Jason Caldwell attended Randall High School for 4 years, seeing the same classrooms, the same hallways and the same faces nearly every day. Twenty years later, Caldwell returns to Randall with his wife, who is also a Randall graduate, and his two children. Though many faces have changed, Caldwell is invited to stand before the current students and faculty to receive one of the highest honors of our school.
On the 13th of September, Caldwell was named Randall's 17th Hall of Fame Inductee. His actions during and after high school secured his recognition.
"Jason Caldwell went to elementary school at Gene Howe, Junior High at Valleyview, and is a 1993 Randall High School Graduate," Principal Steve Williams said. "He went on to attain a degree in Criminal Justice from West Texas A&M in '97, and began his law enforcement career with the Amarillo Police Department."
Caldwell is a veteran of the United States Secret Service. He protected both President George Bush and President Barack Obama.
"Jason has stood in the Oval Office beside the most important man on the face of the earth protecting the President while he conducted his daily business," Williams said. "He is no longer on the Presidents protection team, but is now stationed in Waco and is called upon to protect President Bush when he visits his Crawford Ranch. He is also assigned to protect various United States dignitaries as they travel both here in the US and abroad, as well as protecting other world leaders when they visit our country."
Williams said he went through a lot to get permission for Caldwell's presence on homecoming.
"When I called [Jason's] supervisor, he said that Jason is an incredible example for all and he could think of no greater way to celebrate his accomplishments. He wanted the students of Randall to see what a great example Jason had become. When I called Jason to let him know of his selection, he became very quiet. He mumbled, 'Coach, I'm not worthy of such an honor.' [His] unselfish actions and humble attitude are exactly why [he is] so worthy."